Trip:
Stanford Loop Adventure Run -
Date:
9/23/2009
Trip Report: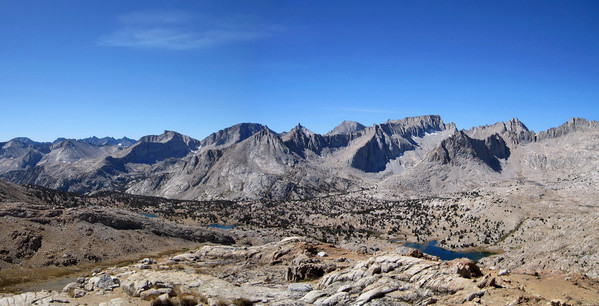 The Great Western Divide seen from the upper Kern Basin
I designed a single large loop that entails nearly 40 miles and 14,000 feet of elevation gain with spectacular views into the heart of the Southern High Sierra. I call the route the "Stanford Loop" because it encircles 13,963 ft Mount Stanford, which is known as the "shyest" major peak in the Sierra because its position makes it only prominent from a small area. The loop includes four passes, two over the Sierra Crest (University Pass and Kearsarge Pass), and two over the Kings-Kern Divide (Forester Pass and Milly's Foot Pass). There is extensive off trail travel, first in the climb up and over University Pass, and second in the traverse of Upper Kern Basin to Milly's Foot Pass and down to Lake Reflection. The travel in the second off-trail portion is particularly arduous and cumbersome with extremely loose (kitty litter) class 3 downclimbing from Milly's Foot Pass and several thousand feet of loose talus fields to negotiate in the descent to Lake Reflection. Despite the substantial and grueling effort that is required to complete this loop, I think it is the greatest single day tour of the Southern Sierras. Obviously, my travels in the Sierra are not thorough, but this one will be tough to beat. The route is a highlight reel and I was treated to constantly changing views, including Center Basin, Upper Kern Basin, the Kings-Kern Divide, the Great Western Divide, Lake Reflection, and Kearsarge Pinnacles. The remote and infrequently visited Upper Kern Basin is especially memorable with close views of the Great Western Divide. This area is typically only reached after a multi-day backpack and I did not see anybody from the JMT all the way to East Lake.
Location (Elevation):

Time Elapsed

/

Split

/ Real Time
Onion Valley TH (9,192 ft) :
0
/
0
/ 06:05
University Pass (12,640 ft) :
1:48
/
1:48
/ 07:53
Forester Pass (13,057 ft) :
4:02
/
2:14
/ 10:07
Milly's Foot Pass (12,240 ft) :
6:38
/
2:36
/ 12:43
Jct Bubbs Creek Trail (8,136 ft) :
10:02
/
3:24
/ 16:07
Kearsarge Pass (11,760 ft) :
12:30
/
2:28
/ 18:35
Onion Valley TH (9,192 ft) :
13:45
/
1:15
/ 19:50
The prior day I made the 7 hour drive from the SF Bay Area. This is about as far as you can get from the Bay Area for Sierra access, but I knew it would be worth it. I started at 6:05 am from the Onion Valley TH under clear skies and crisp early-fall temperatures. The weather was perfect for the most part – not too hot and not too cold with excellent clarity. The climb up to University Pass went fast and before I knew it I was in awe of the view down to Center Basin and Mount Stanford from the pass. The descent to Center Basin goes relatively fast with gravel for plunge stepping. The setting in Center Basin is classic Sierra with small lakes, patches of pine trees, and towering Center Peak. From Center Basin, I traversed cross country around the Northern periphery of Center Peak and joined up with the John Muir Trail heading up to Forester Pass. It is along this stretch that perhaps the best views of Mount Stanford are seen. This trail is graded very well, and if I were acclimatized I would have been able to make better time here through more running, but I still made reasonably good time up to the pass in just over 4 hours after beginning.
Alternatively, the video can be watched on Vimeo
The descent from Forester Pass and through an open basin is very fast and soon I was off the JMT traversing around the South ridge of Caltech Peak and into the Upper Kern Basin. A small pass is reached before dropping down towards Lake South America (shaped like South America), and from here astounding views of the Great Western Divide open up. The hike across Upper Kern Basin to Milly's Foot Pass is surprisingly long with several lakes and granite humps to negotiate – Milly's Foot Pass is further than it looks! The most difficult portion of the loop is from Milly's Foot Pass down to Lake Reflection. First a section of loose class 3 rock is encountered. Then, an "endless" talus field is encountered most of the way down to Lake Reflection 3,000 feet below. Towards the bottom, I failed to take the path of least resistance and wound up in some brush and cumbersome travel along the east shore of Lake Reflection; both energy and time consuming.
Finally at Lake Reflection's outlet where the trail ends, I took a break to enjoy the views of Mount Genevra and Mount Jordan towering above the clear blue waters of Lake Reflection. The trail from Lake Reflection down to East Lake is more like a use path which precludes fast travel, but there are great views of Mount Brewer. The way down to Bubb's Creek is beautiful with patches of Aspen trees in full fall color and an enchanting forest of old growth fir trees is passed. Once at Bubb's Creek, I knew I had nearly 4,000 feet of climbing remaining. It was hot and dusty on the trail heading up to Vidette Meadows and was getting tired. The climb up to Kearsarge Pass was a real grind, but view of the Videttes, Kearsarge Pinnacles, and imperial Southern Foxtail Pines kept me motivated. I finally reached Kearsarge pass 12:30 after beginning at 6:35 pm as the sunset was beginning to set. The shorter fall days resulted in some night hiking by headlamp for the last 30 minutes. I was exhausted at the finish, but amazed at what I had seen throughout the day. I did not climb any peaks on this outing, but in many ways I accomplished more. University Peak and Mount Genevra were probably would probably only require an hour extra for each, but I was glad I did not succumb to the temptation to climb these mountains as I slowly grinded my way up to Kearsarge Pass at the end of the day.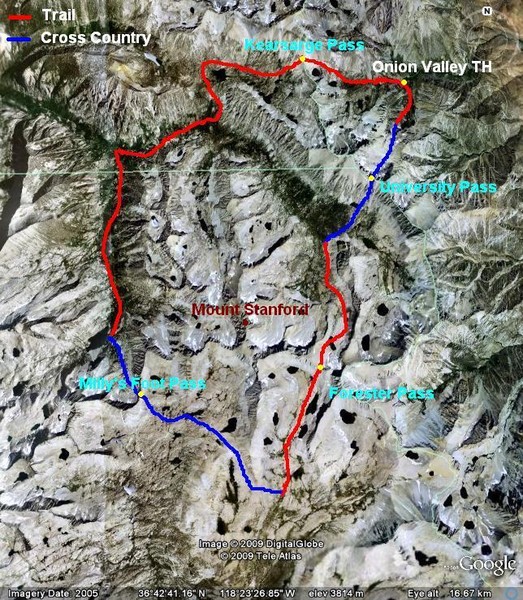 Aerial Map of the Stanford Loop Route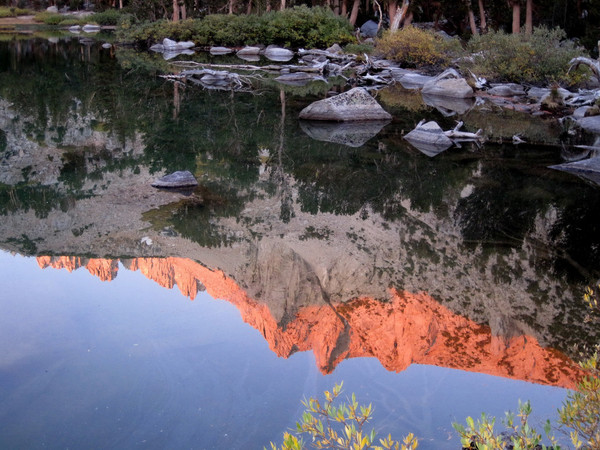 Robinson Lake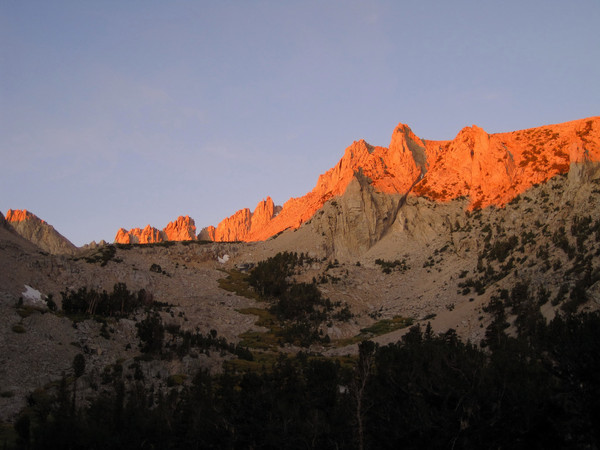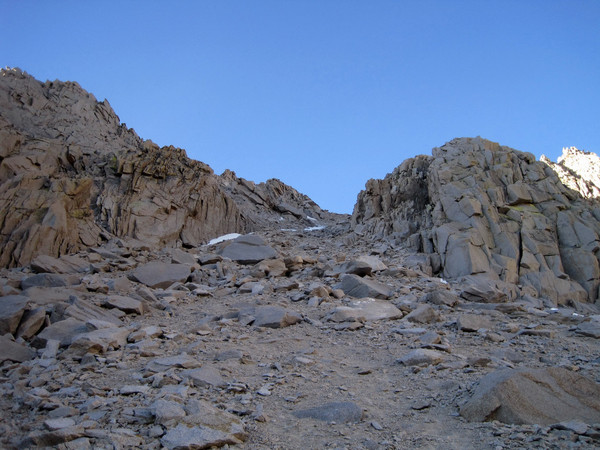 Slopes leading up to University Pass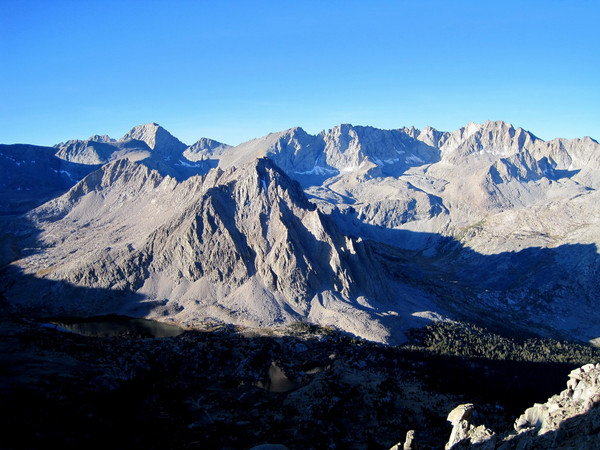 View of Center Basin from University Pass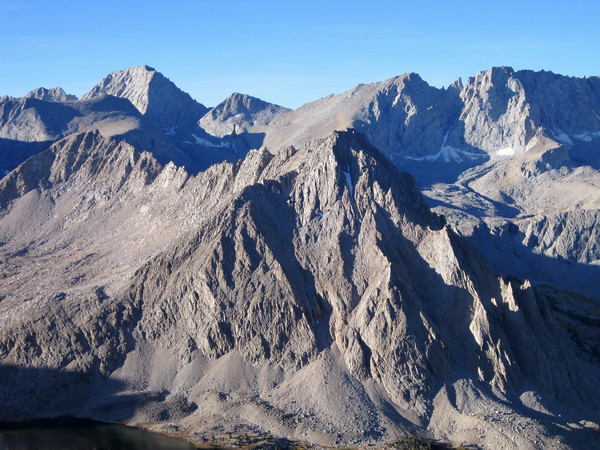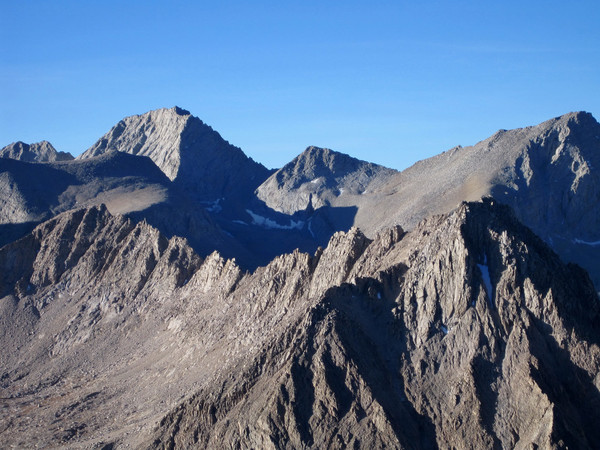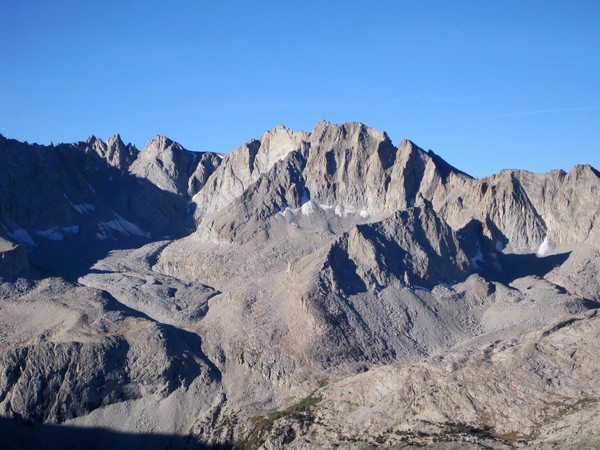 Mount Stanford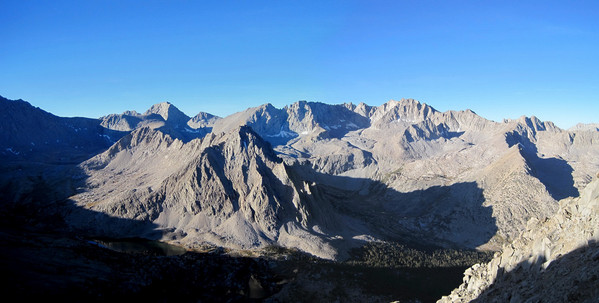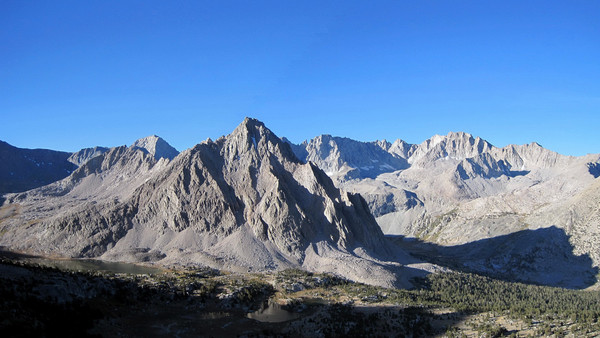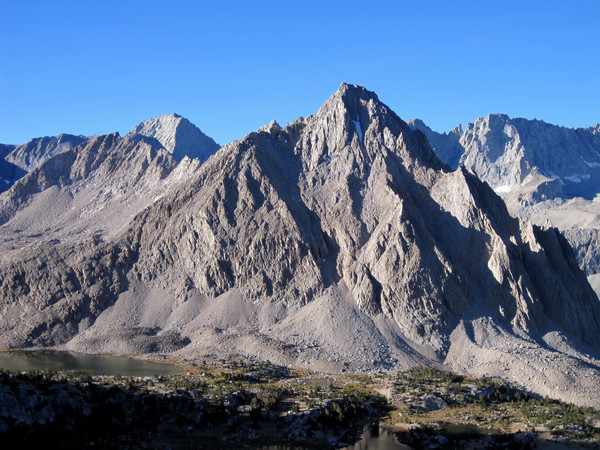 Center Peak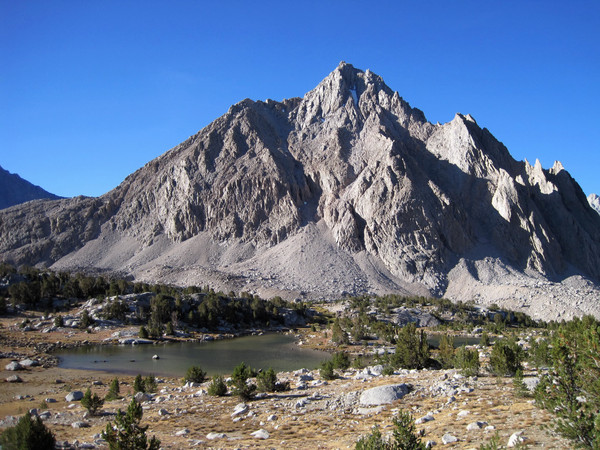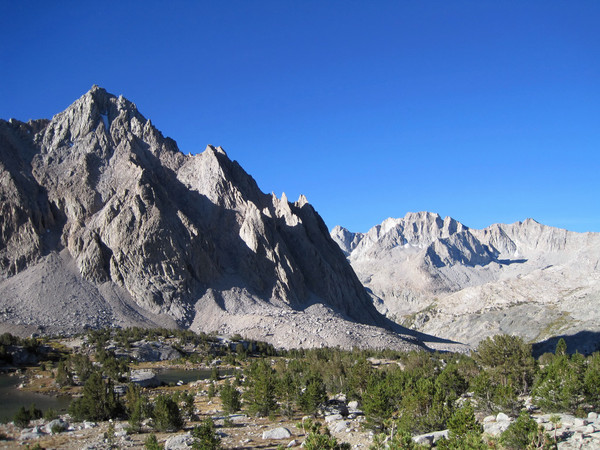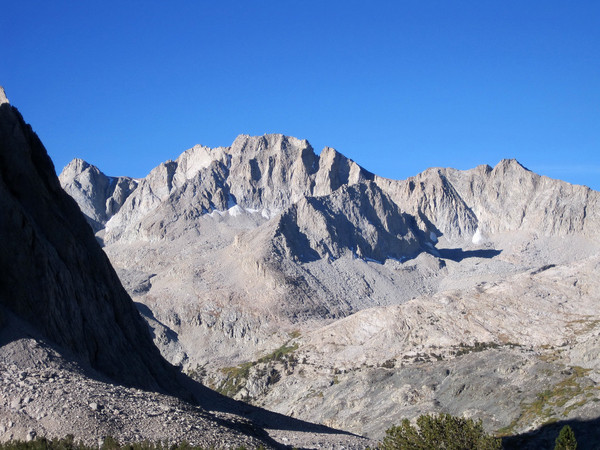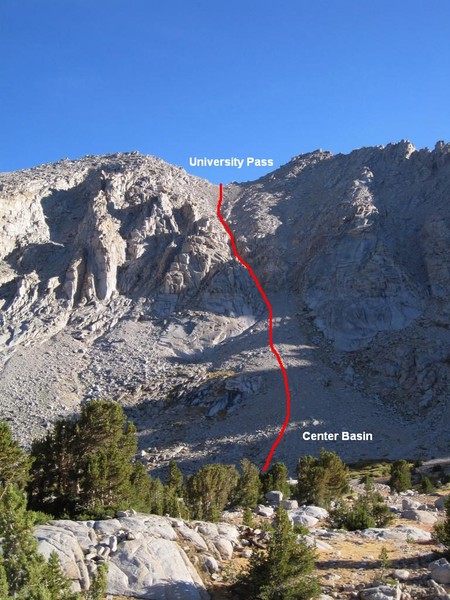 Route from University Pass into Center Basin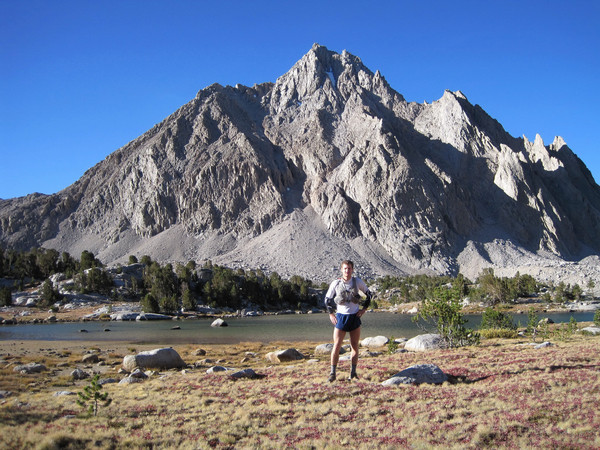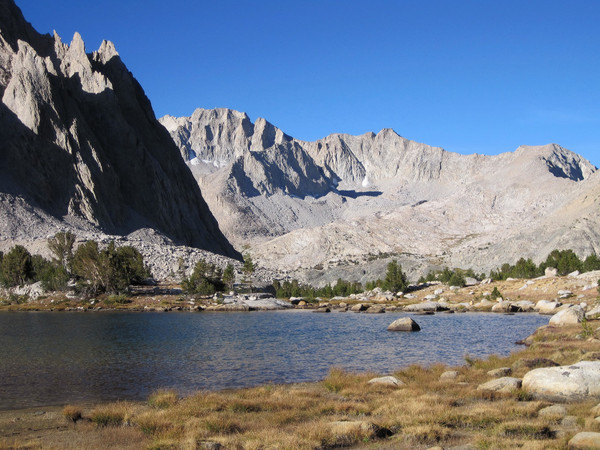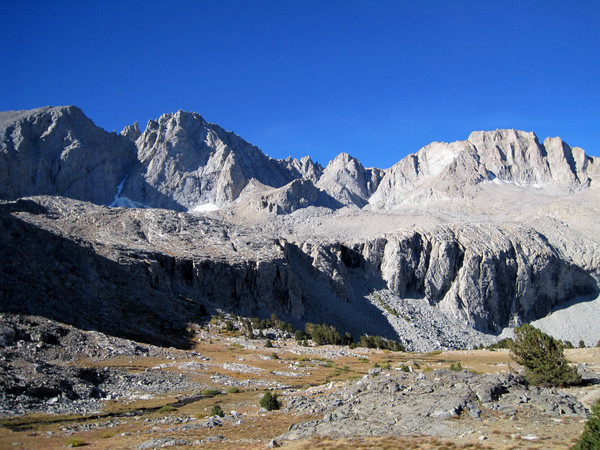 Mount Stanford from the JMT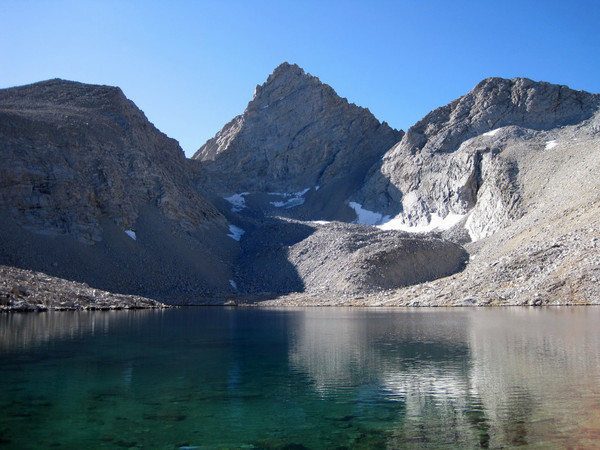 Lake below Junction Peak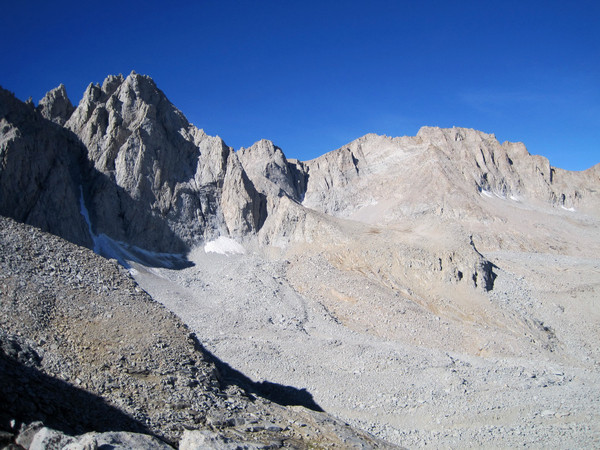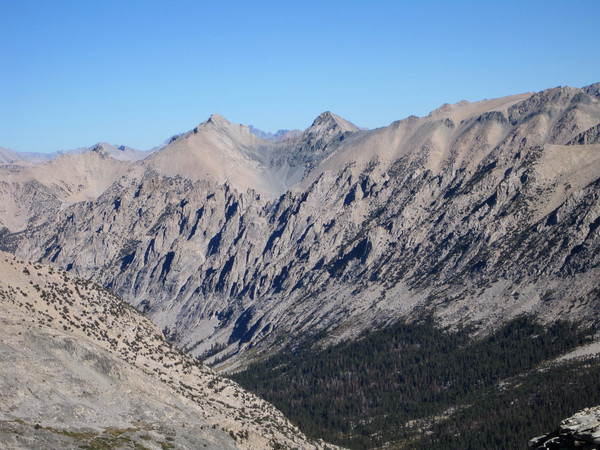 View from Forester Pass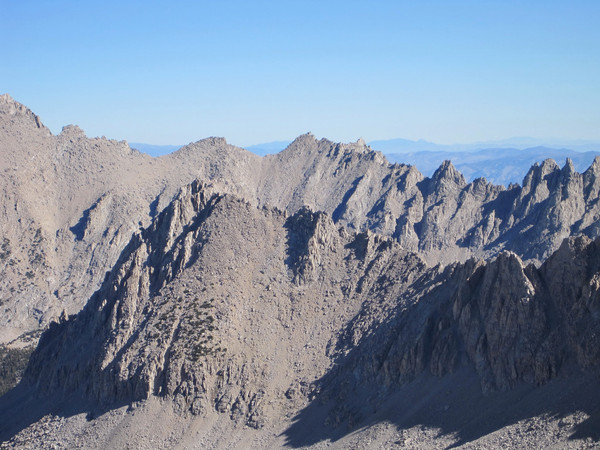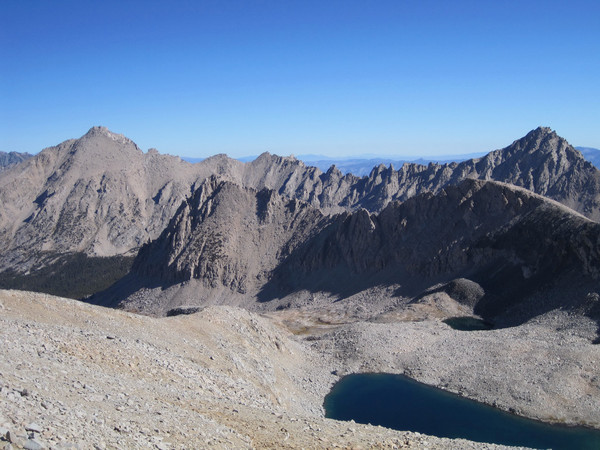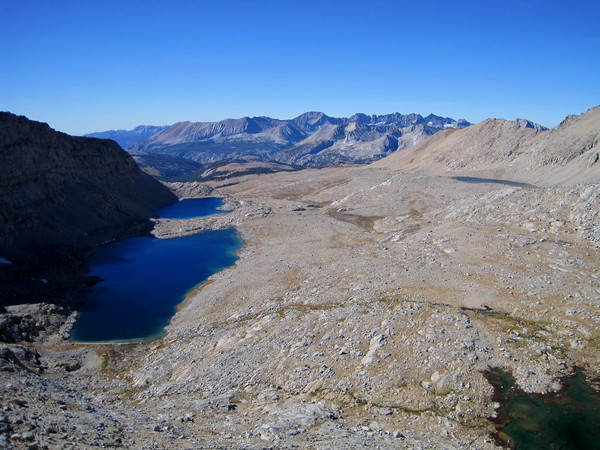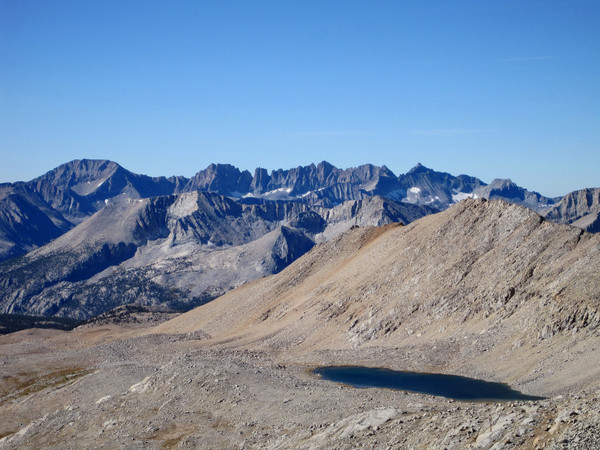 Kaweah Range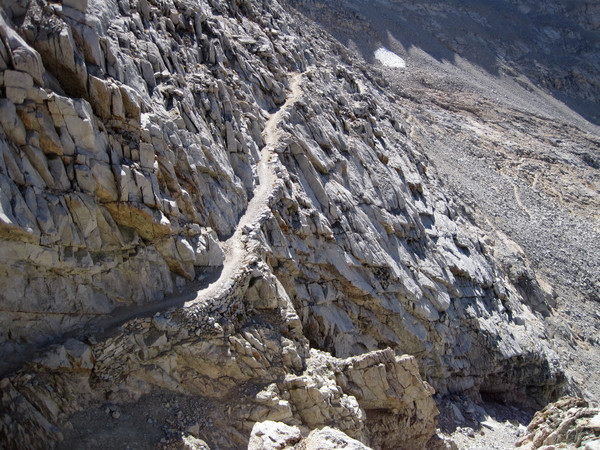 Famous section of the JMT below Forester Pass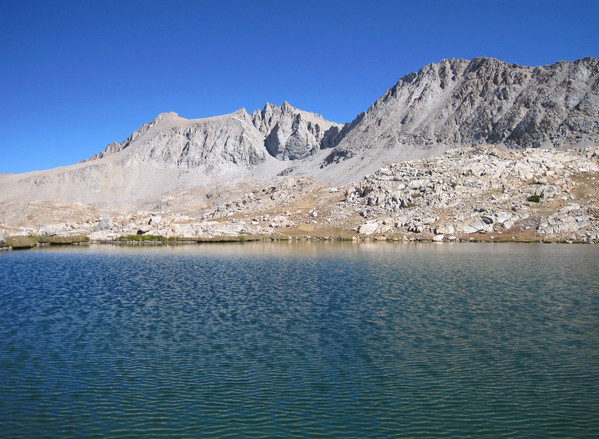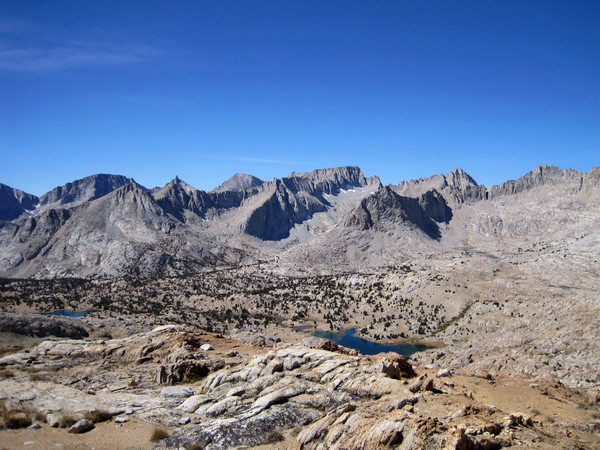 The Great Western Divide from Upper Kern Basin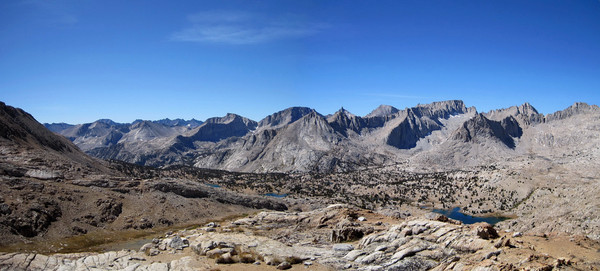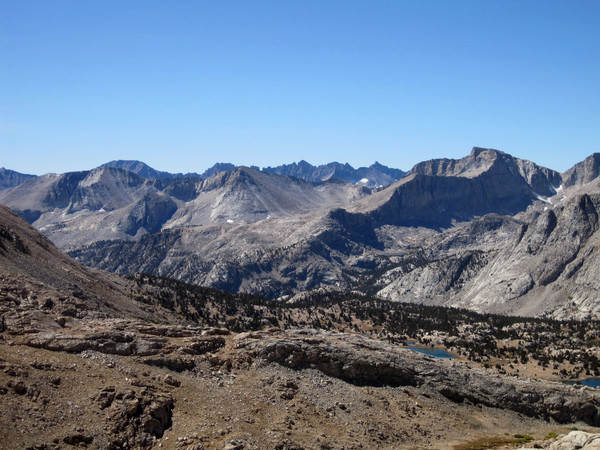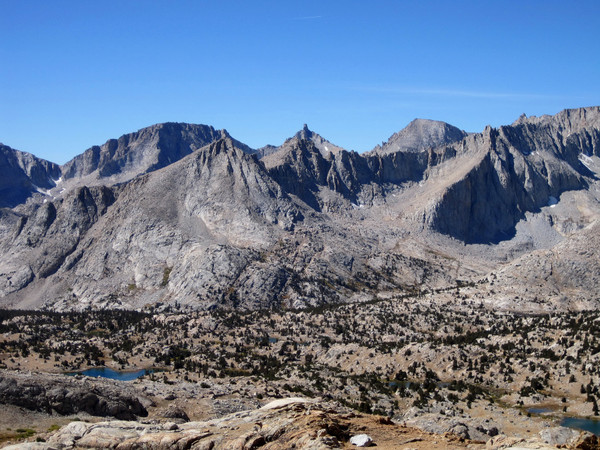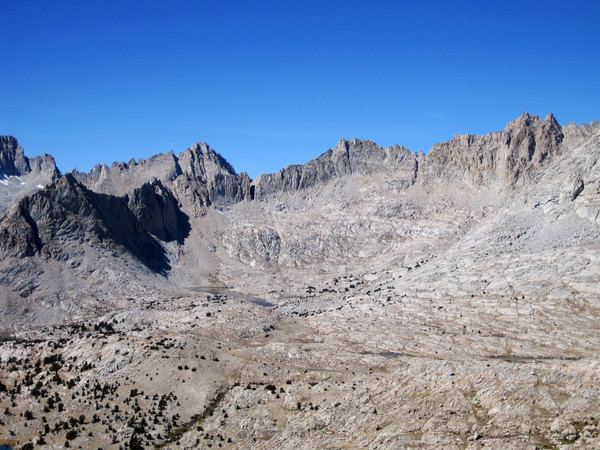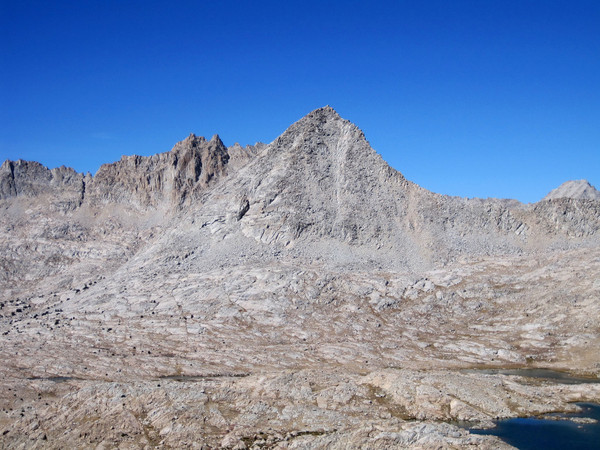 Mount Genevra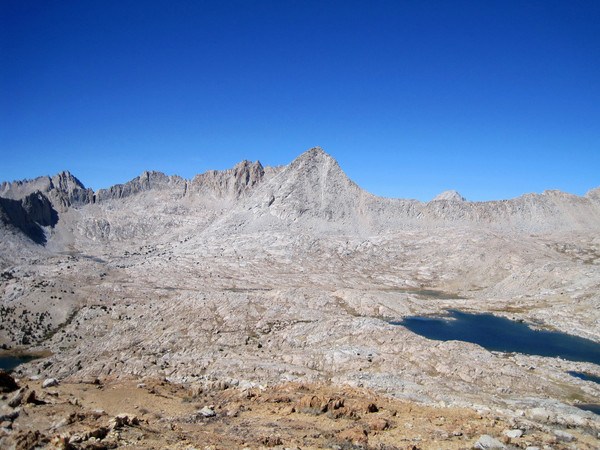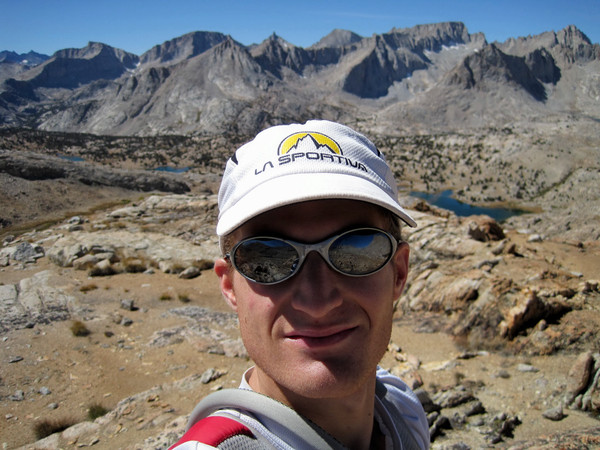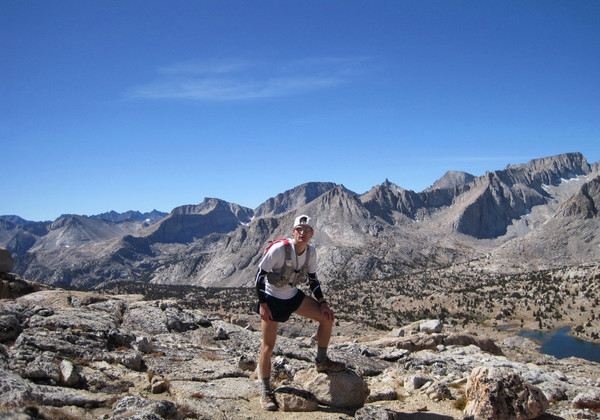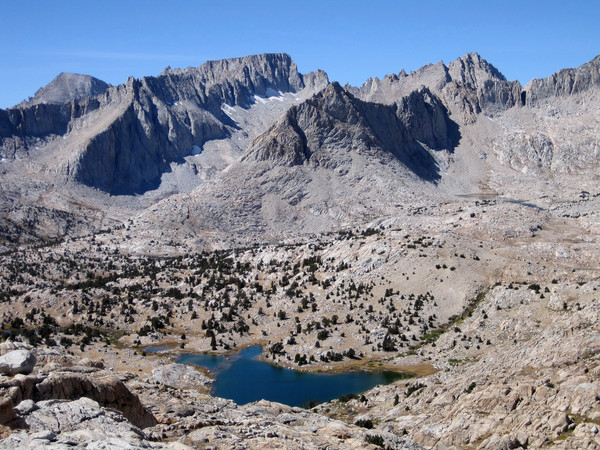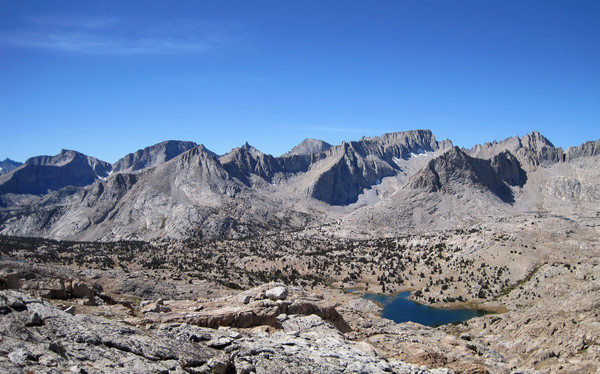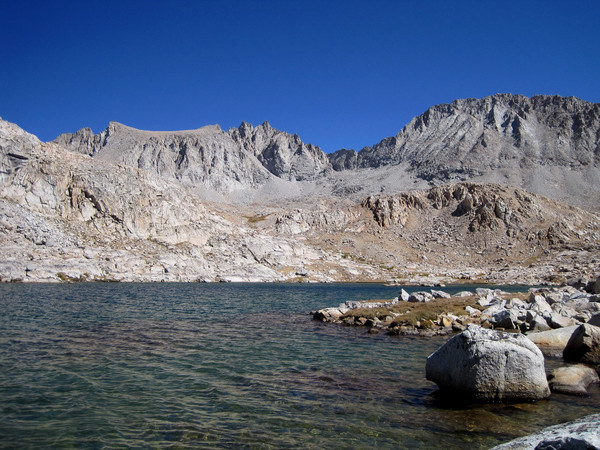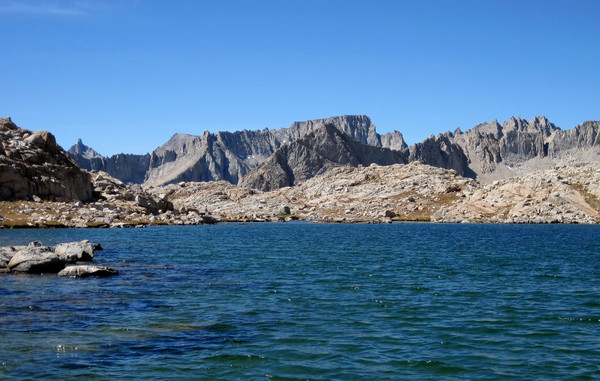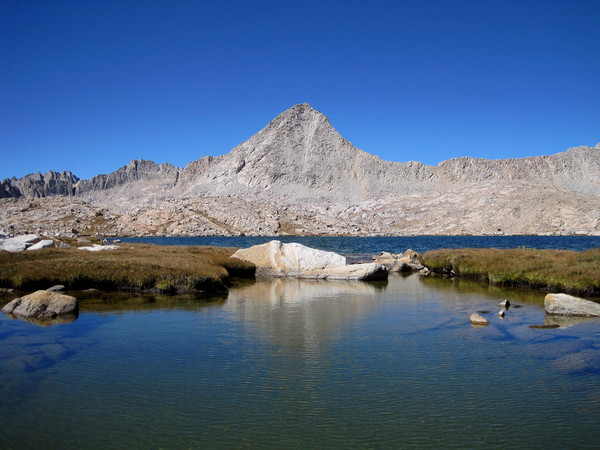 Mount Genevra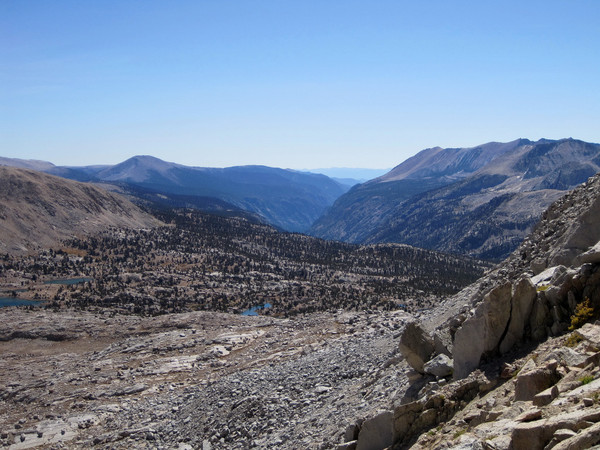 Kern Canyon from Milly's Foot Pass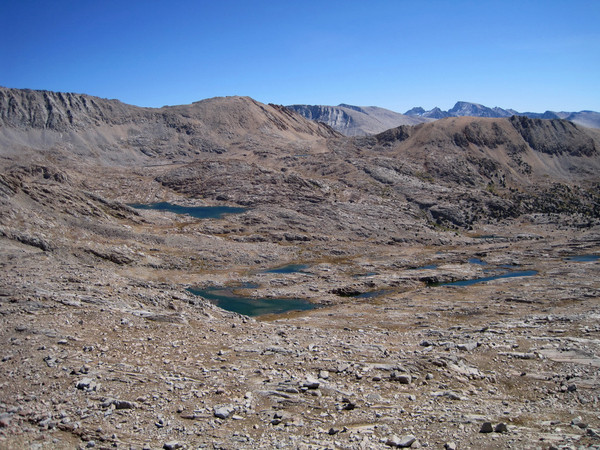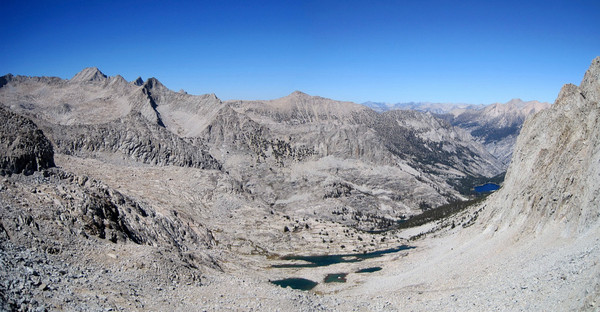 View from Milly's Foot Pass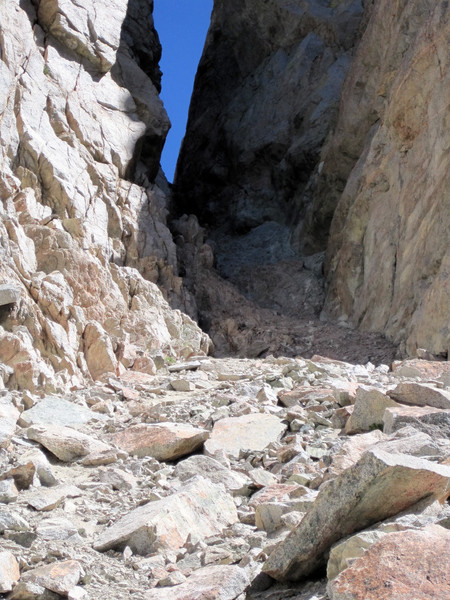 Class 3 scramble down from Milly's Foot Pass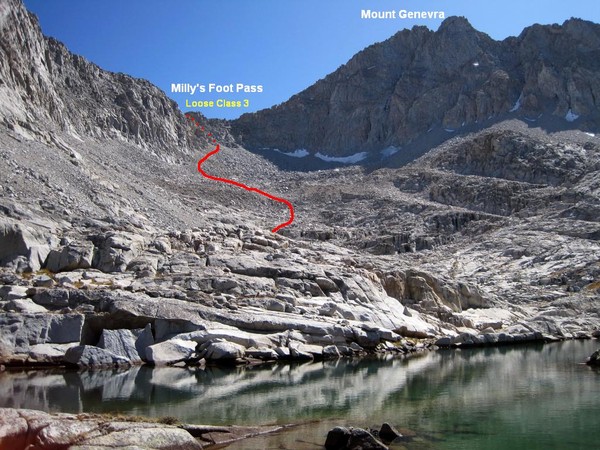 Route from Milly's Foot Pass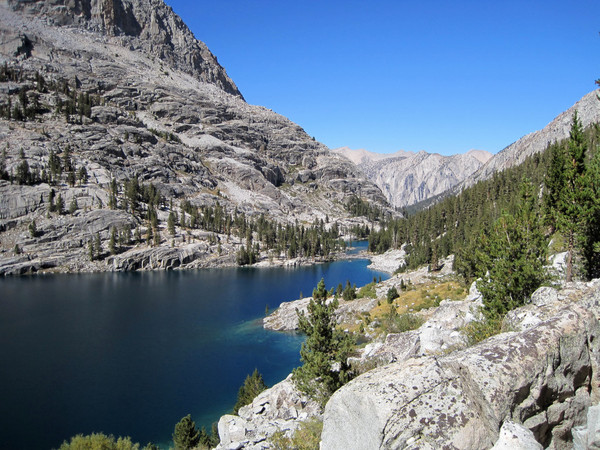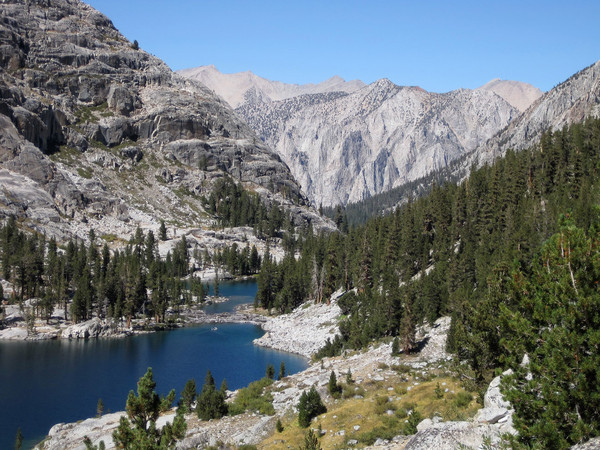 Lake Reflection and Mount Bago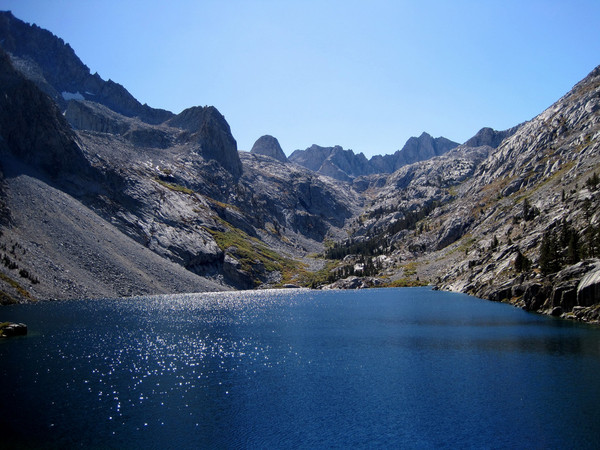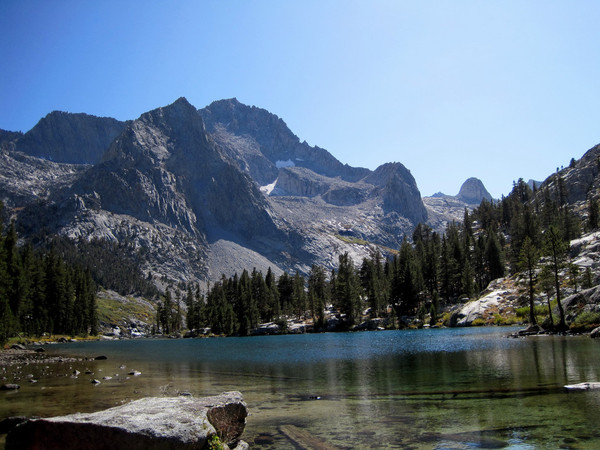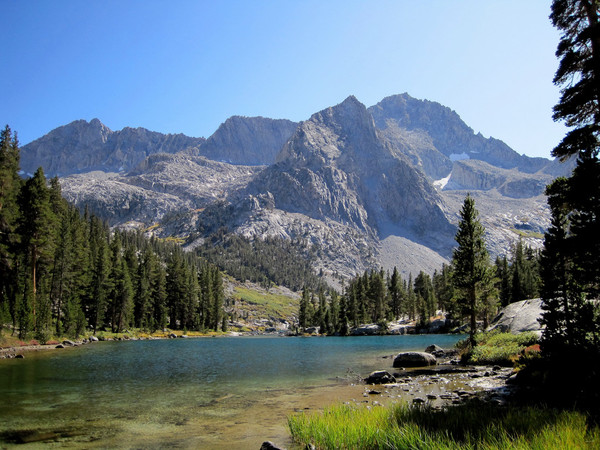 Gorgeous Lake Reflection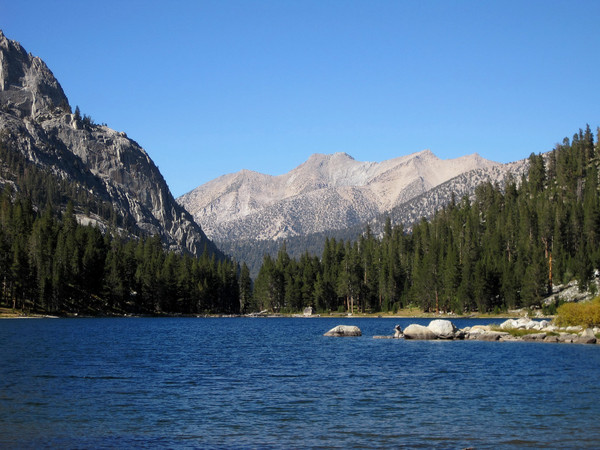 East Lake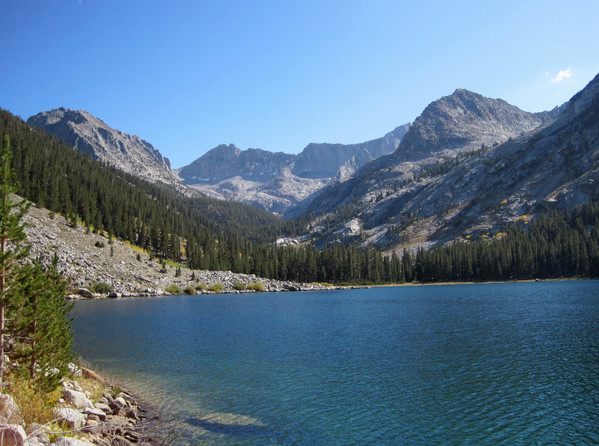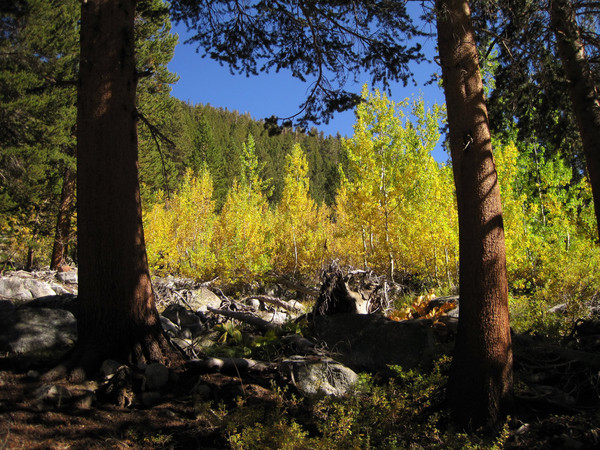 Fall Color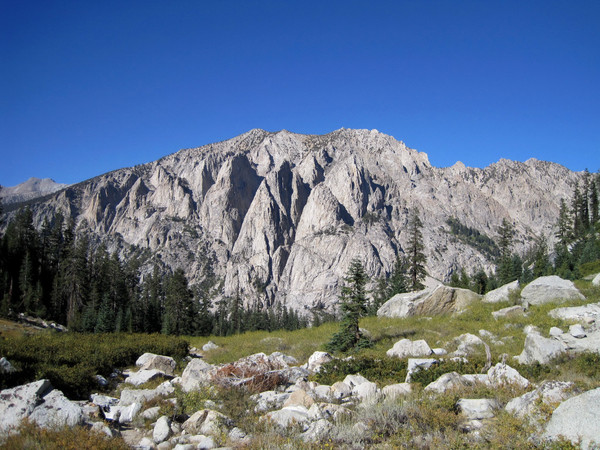 Mount Bago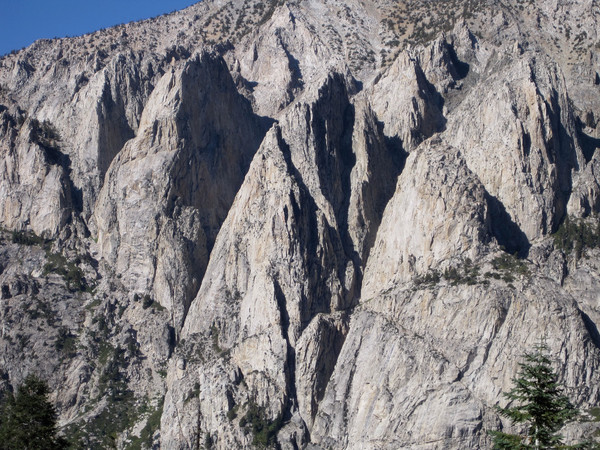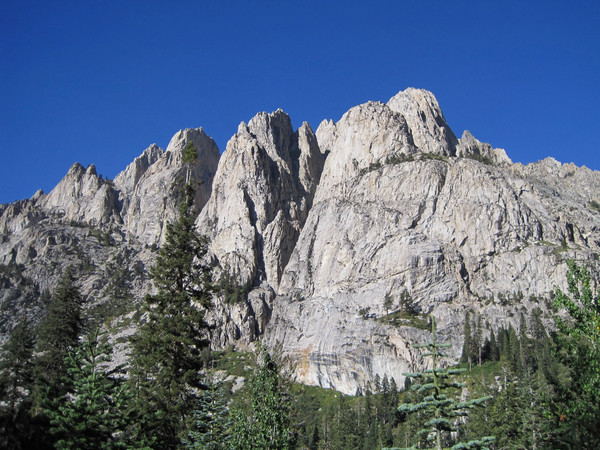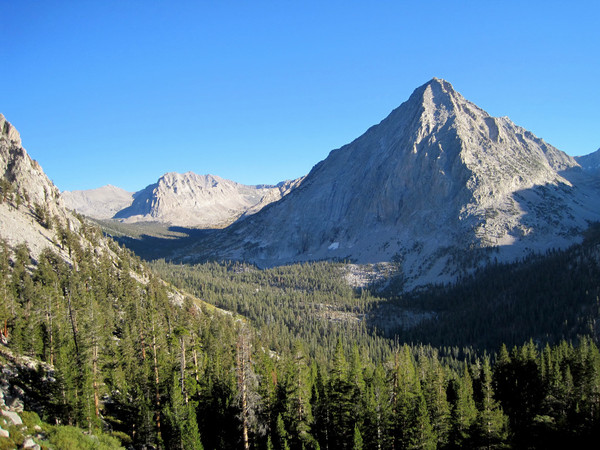 East Vidette and Center Basin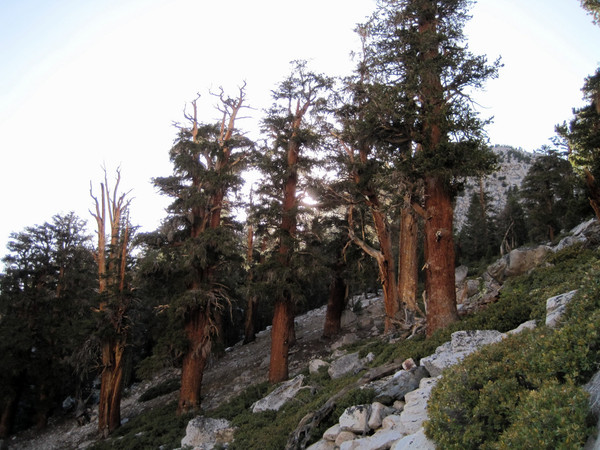 Southern Foxtail Pines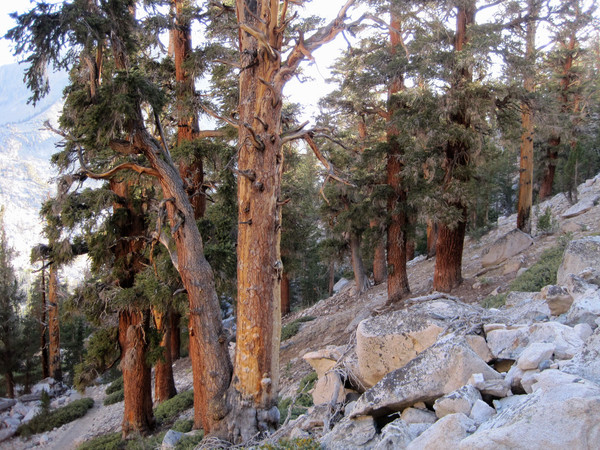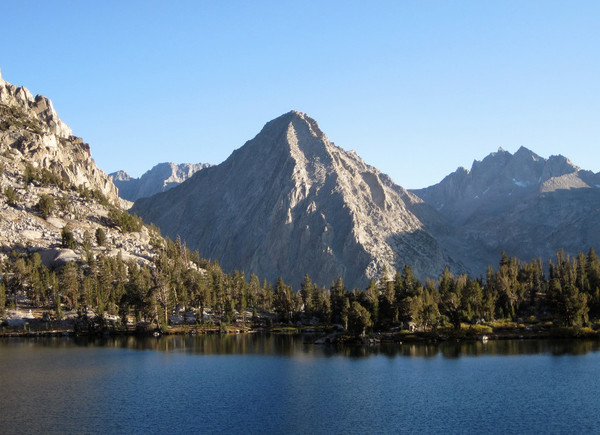 Bullfrog Lake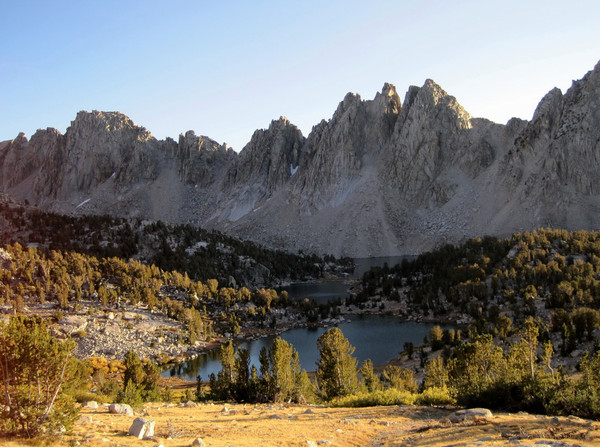 Kearsarge Pinnacles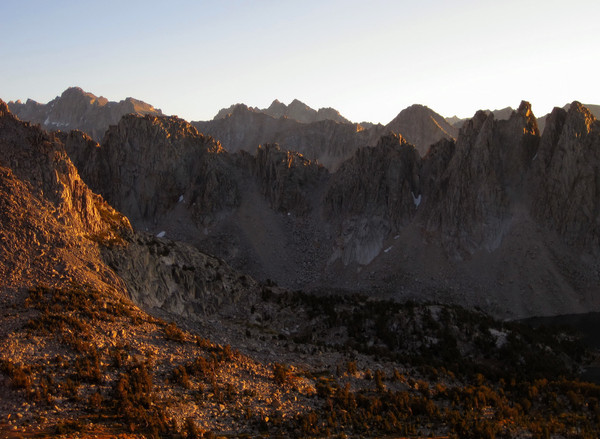 Evening Light from Kearsarge Pass
Gear Notes:
La Sportiva Fireblades, Ultimate Direction Wasp Pack