Trip:
Sherpa Glacier-Cascadian Couloir through trip
Date:
5/27/2017
Trip Report:
5/27: Departed Stuart Lake TH at 1:30AM to eat up a few miles, took a nap and got rolling again at 6 with the hope of being early enough to be able to climb the Sherpa glacier that day for an epic bivy on or near the summit of Stuart.
Hiked the first couple of miles in shoes then switched to ski boots to more comfortably deal with the patches of snow.
Started skinning at ~4500' once we were hiking up Mountaineer Creek; attempted skinning lower on the Stuart Lake Trail but it didn't go well.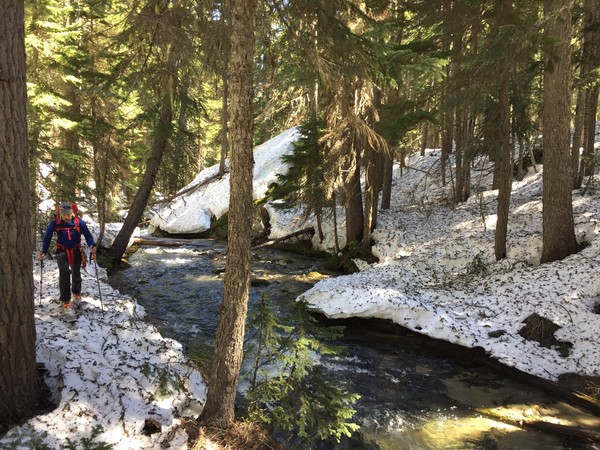 Crossed to the south side of Mountaineer creek at 4800' when the snow ran out, which got us a little higher but we eventually had to pack the skis again to clear the final climb into the upper basin at the foot of the glacier.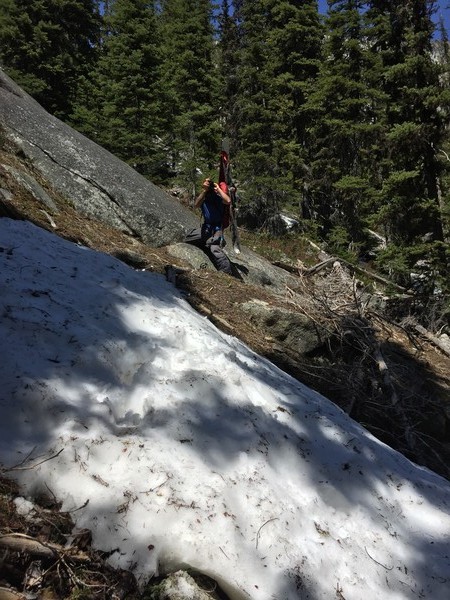 Upon arrival we could see there were significant hazards (large snow patches on rock slabs and one remaining cornice) that would make climbing the glacier excessively dangerous so we opted to camp in the basin.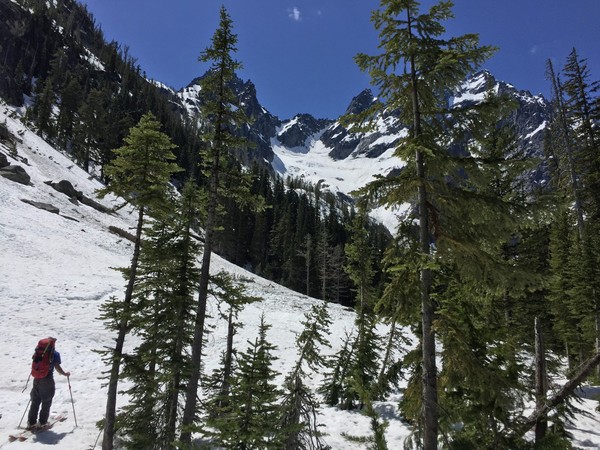 Enjoyed an insanely beautiful and fun ski on an easterly aspect beneath the Stuart, Ice Cliff and Sherpa glaciers.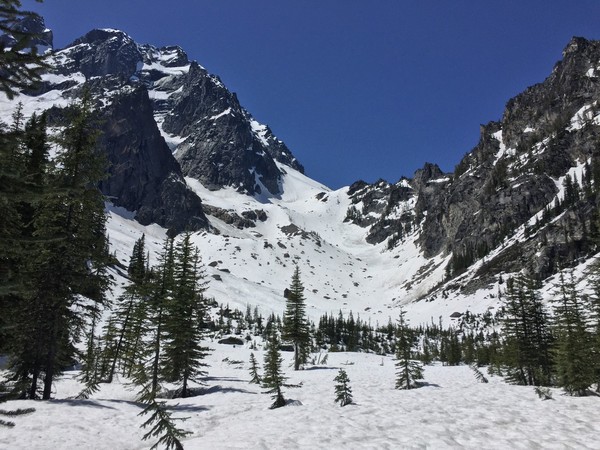 So many more incredible ski objectives in this zone, it would be highly worth coming back to stay for multiple days.
We observed the mountains not shedding excessively throughout the afternoon and evening, which gave us optimism for safe passage the next day.
Open bivy for a stunningly beautiful night.
5/28: Started climbing at 5AM and made it up the Sherpa Glacier in 4h 40m.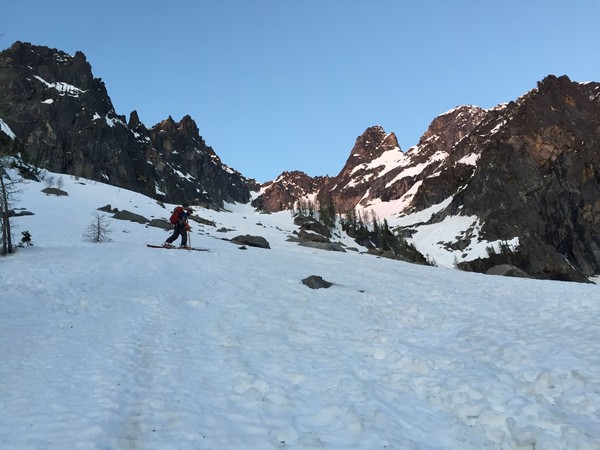 Sun was on it before we could top out and I had to scramble a couple times to avoid a rock and small loose-wet slide. My parter who led the entire climb did not face any hazards.
We roped up to skin the glacier but traveled solo for the couloir climb.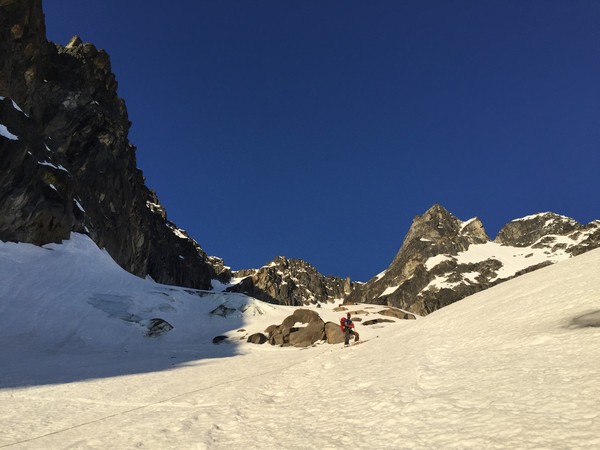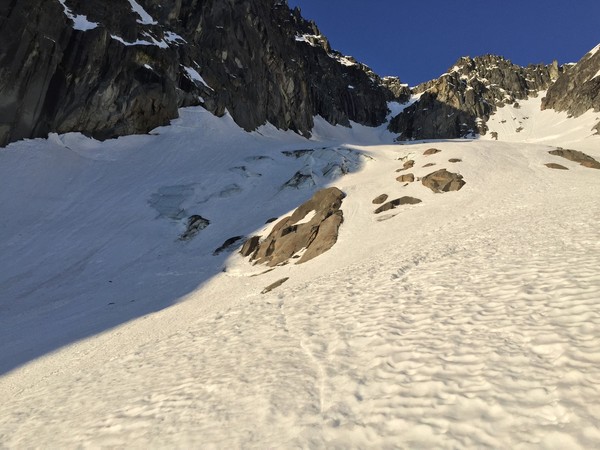 Snow was soft but supportive making both skinning and booting straightforward.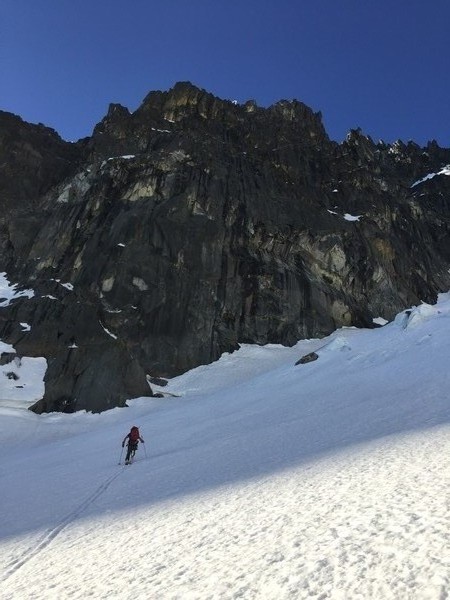 There was an old boot pack that went to the climbers right side of the bergschrund, which my partner was unable to follow due to the steep slope angle and rotting snow in that particular zone. He traversed it to the left and found a good line of ascent albeit in more hazardous location. There was rockfall hazard from above (this is where I encountered the rock) and put us traversing back to the right directly above the schrund.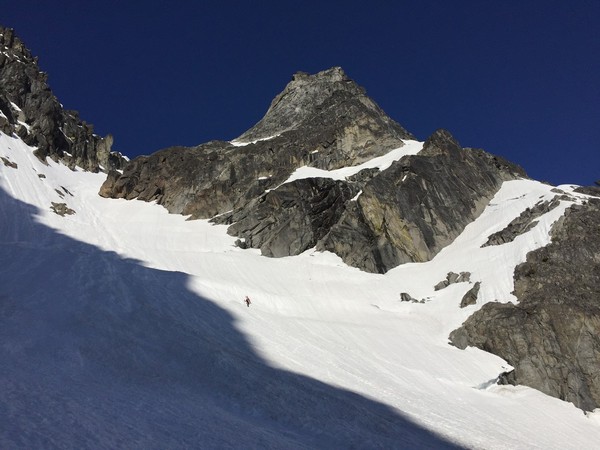 However, as we climbed further we realized that there would be no avoiding a path into the schrund in the event of a fall for the duration of the climb despite how it appeared from below; Mitigation plan was to not attempt to arrest a fall and use momentum to clear the gap.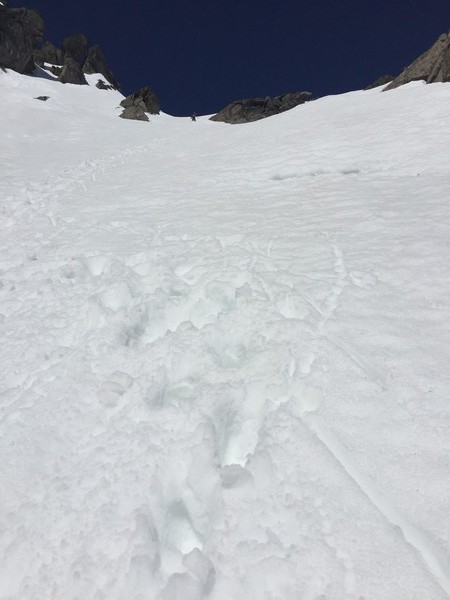 Reached a high point at 8400' and stopped down to eat and make water.
Traversed/climbed a bit further to gain the top of the Cascadian Couloir and transitioned to skiing.
Skied the Cascadian down to 5500' where continuous snow stopped.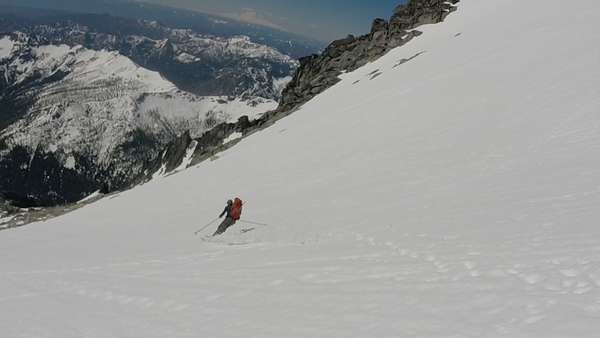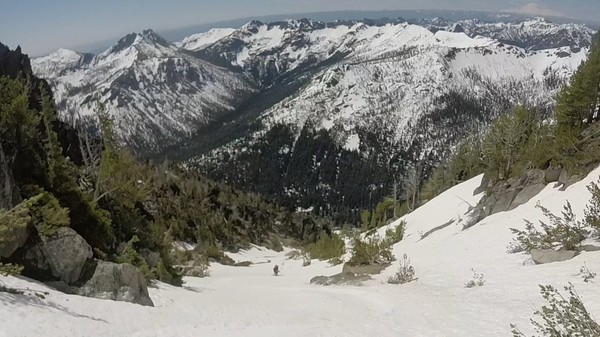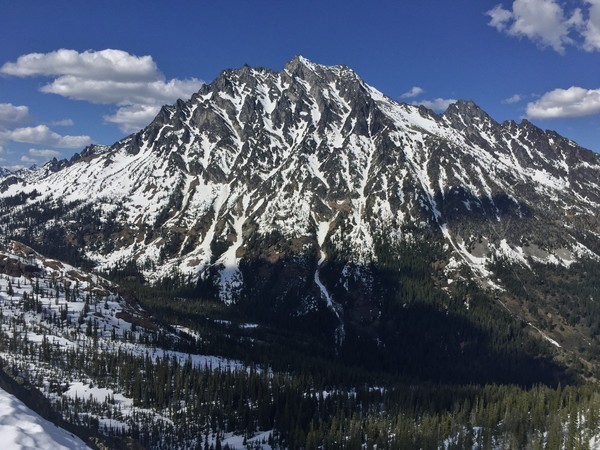 Hiked down to Ingalls creek where there was once again continuous snow, back to skis over to the log crossing and a bit up towards Long's...but alas the snow disappeared again so back to boots! The snow returned around 5400' allowing us to skin to the base of the bowl beneath Long's to find a whole bunch of big nasty cornices covering the whole thing!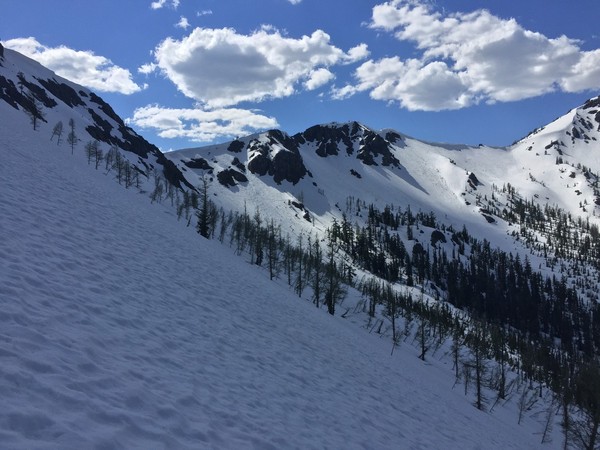 We found safe passage on a North facing aspect to the climbers left of Long's and had an easy time gaining the ridge and traversing back to (mostly) ski down to the Esmerelda trail.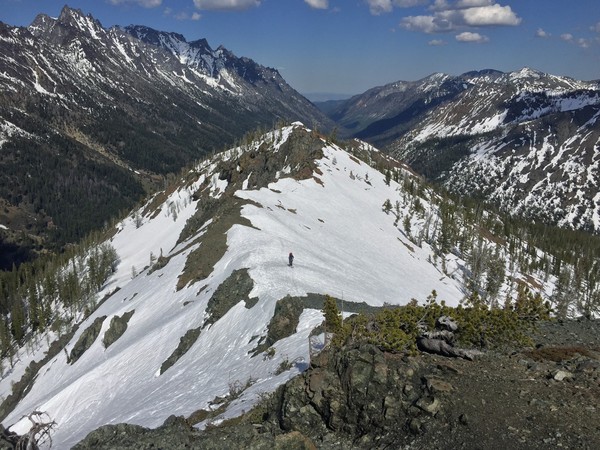 All in all:
-15 miles
-8452' of ascent
-8026' of descent
-3 big downhill ski descents
Gear Notes:
-Both carried crevasse rescue kits (cordalette, 2x slings, lockers, ATC, screws) - didn't use any of it
-30m 7mm rope used once
-I lost a shoe so if you happen to head out this way and find my sole mate I'll buy you a healthy dose of your beverage of choice for bringing it back to me!! Or stick it somewhere I can find it and send me GPS coordinates or something. Appreciate any help.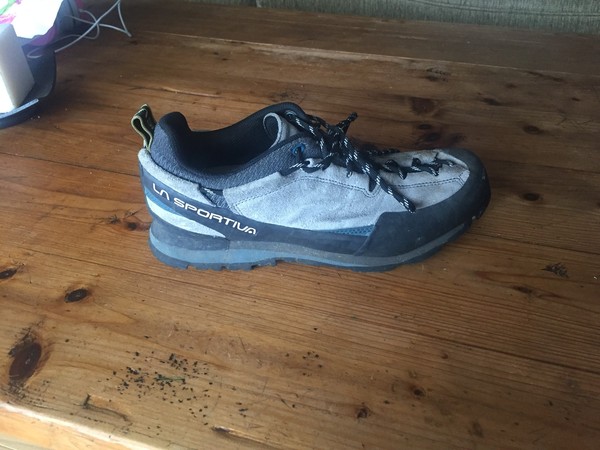 It's somewhere in this stretch (circled in blue):
-My partner lost a pole at the log crossing over Ingalls (bamboo pole with black grip). We both struggled with vertigo at that point due to the rushing water, fatigue and overheating. He almost lost that pole in Bean creek a couple weeks ago but got it back; Guess the Teanaway really didn't want him to keep it! But if anyone happens to find that one also let me know.
Approach Notes:
-Substantial snow shows up on the trail around the Colchuck lake trail but fades in and out so is not worth skinning but is worth putting on ski boots to help keep feet dry
-We were unable to location the climbers trail up Mountaineer creek; There were signs on previous parties but due to conditions and being on skis we had to find our own way
-Crossing to the SE side of the creek where it forks and the terrain opens up was helpful for ski ascent