Trip:
Clark Mountain - Boulder Creek
Date:
7/21/2009
Trip Report:
Clark Mountain is a great non-technical climb with excellent views of the Dakobed Range, Glacier Peak, and the Napeequa Valley. With a tight schedule (I had to be in Sammamish at 3 pm), I thought Clark would be a nice objective for the morning so I left Sammamish at 2:45 am and arrived at White River TH at 5:15 am. The shortest route to climb the mountain is right up from the White River Valley (~16 miles RT), but the fastest route is probably the Boulder Creek route (~23 miles RT) which utilizes trails (Clark Mountain High Route) leading all the way up to 6,000 feet. I chose the Boulder Creek route and was able to reach the summit 3:34 after beginning. After 16 minutes on top, I made the return trip in 2:54 (6:44 roundtrip).
Location (Elevation):

Time Elapsed

/

Split

/ Real Time
Trailhead (2,300 ft) :
0
/
0
/ 05:30
Boulder Pass Trail JCT (2,400 ft) :
40:11
/
40:11
/ 06:10
Upper Boulder Basin (5,000 ft) :
1:43:46
/
1:03:34
/ 07:14
Arrive Clark Summit (8,502 ft) :
3:34:29
/
1:50:43
/ 09:04
Depart Clark Summit (8,502 ft) :
3:51:03
/
16:34
/ 09:21
Boulder Pass Trail JCT (2,400 ft):
5:59:47
/
2:08:44
/ 11:30
Trailhead (2,300 ft) :
6:44:27
/
44:40
/ 12:14
The White River and Boulder Pass trails are in good shape (recently logged out) except a couple open spots along White River and lower Boulder Creek Basin are moderately overgrown/brushy. From the head of the Boulder Creek basin, finding the good use trail up to the alp slopes below the SE Peak of Clark Mountain is imperative. It ascends fairly steeply and in no time you reach the heathery meadows below the SE Peak. From here, I ascended snowfields and solid dirt/rock to a lower col and took the ridge to the 7,200 ft col (better than ascending the sandy/loose slope right below the 7,200 ft col). From here, I descended the class 2 gully, traversed the basin, ascended snow to near the summit, and completed with a short class 2 scramble. On the way back, I used the loose and sandy slopes below the 7,200 ft col to my advantage and plunged stepped down to the heathery meadows in a matter of minutes.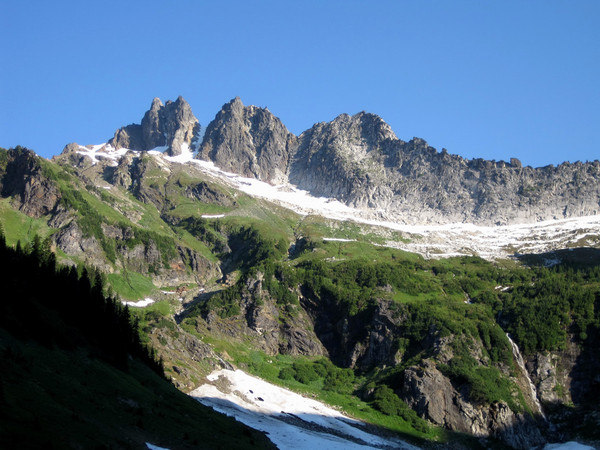 Southeast Peak of Clark Mountain from Boulder Creek Basin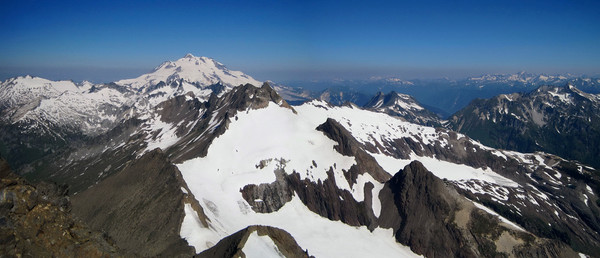 Panorama of Dakobed Range to Glacier Peak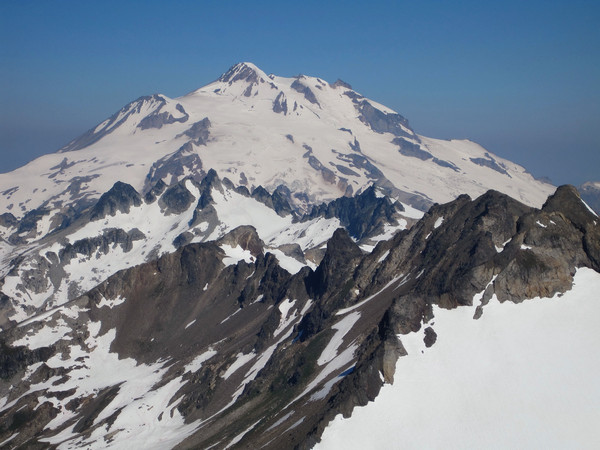 Glacier Peak close-up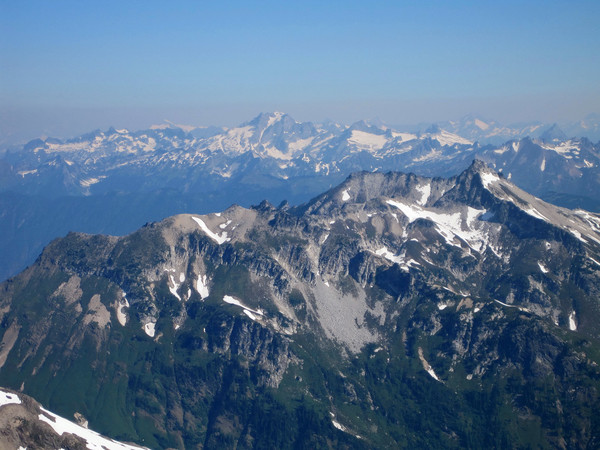 View to Ptarmigan Traverse Peaks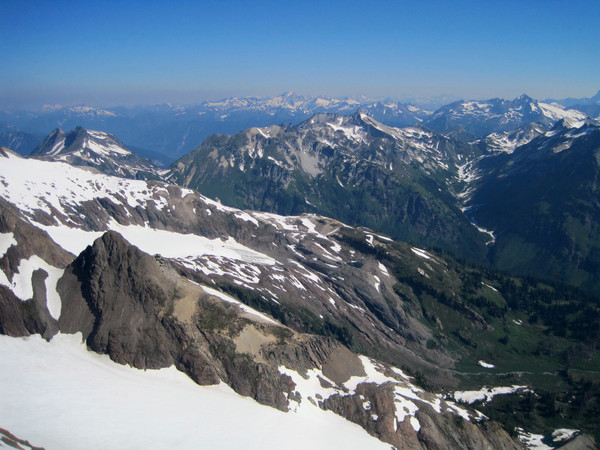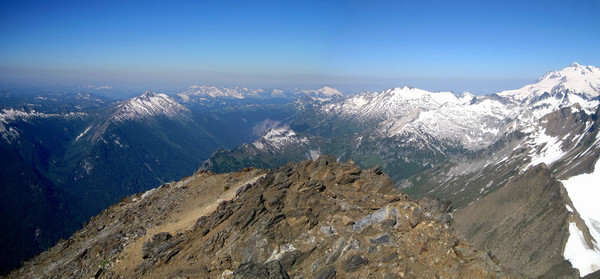 Panorama of Upper White River including Indian Head Peak and Kololo Peaks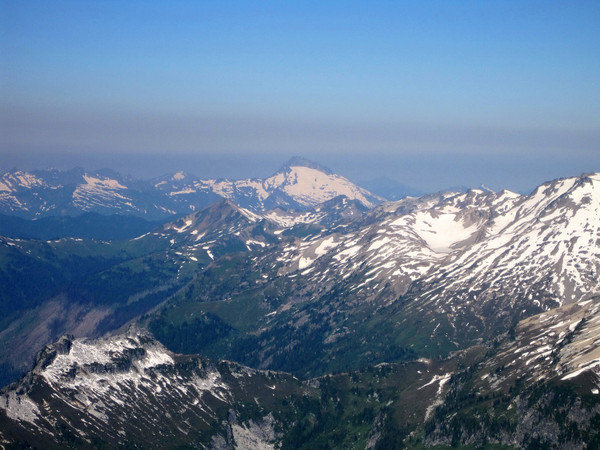 Sloan Peak in the distance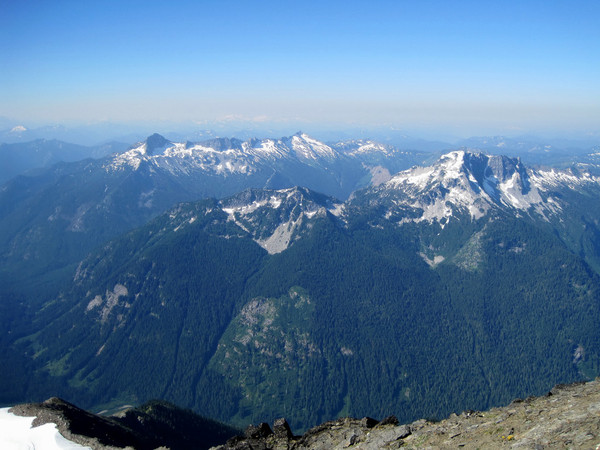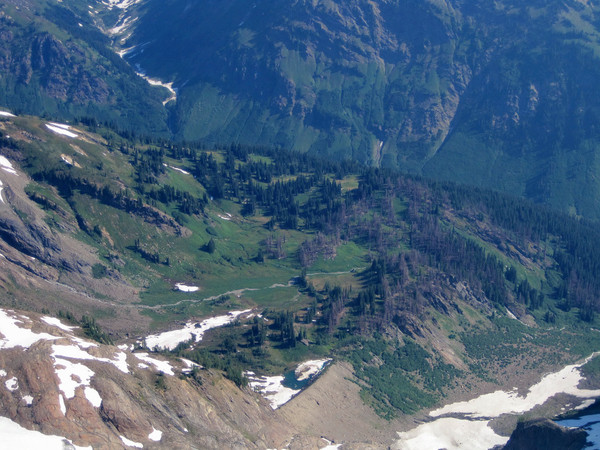 Meadowy bench above the Napeequa River valley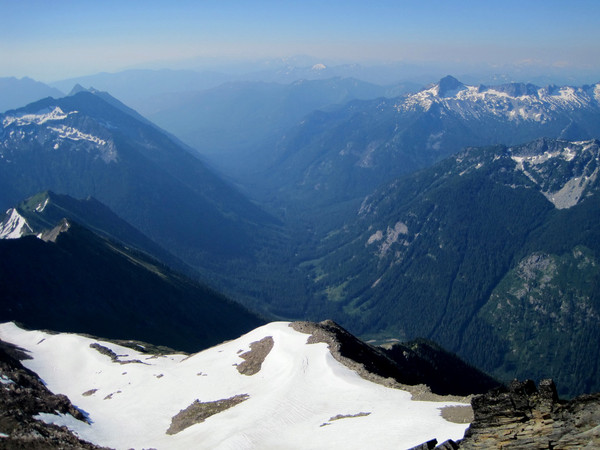 White River Valley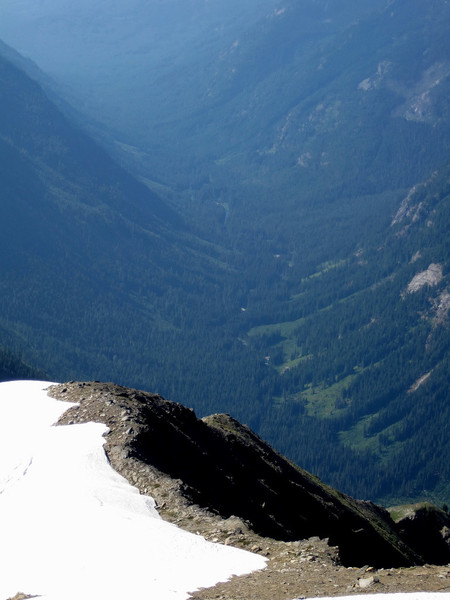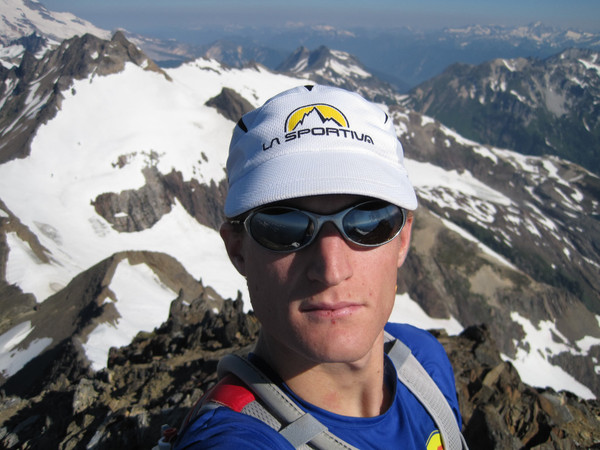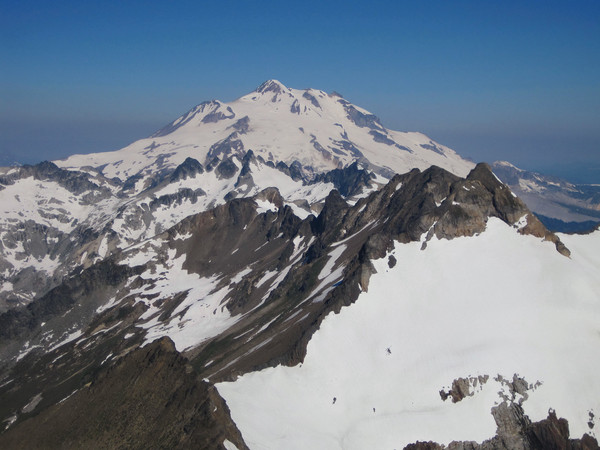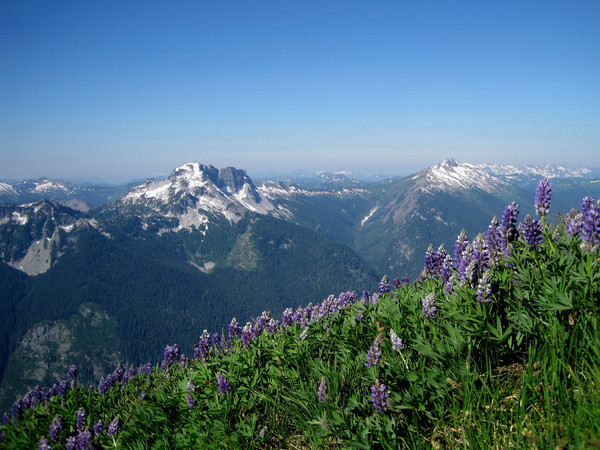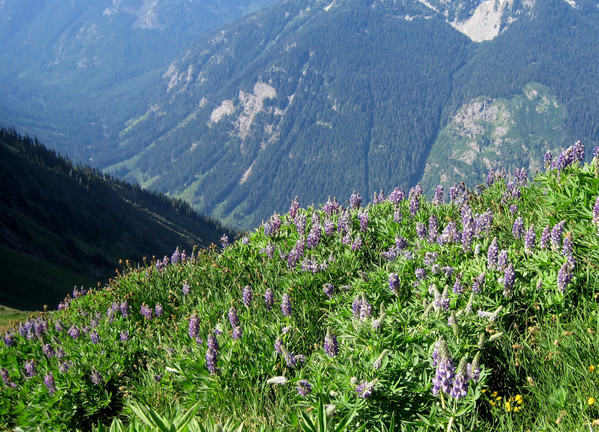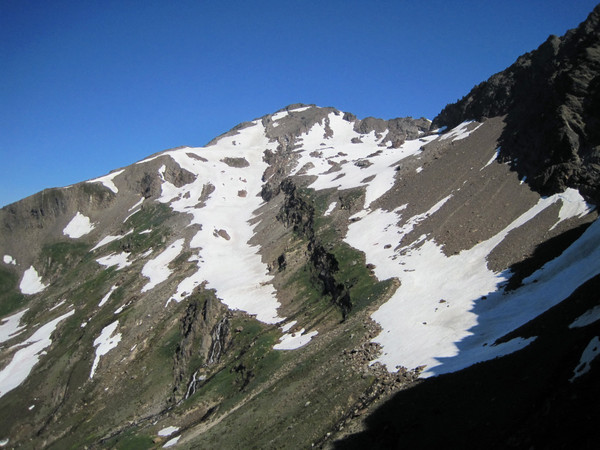 Final slopes up the summit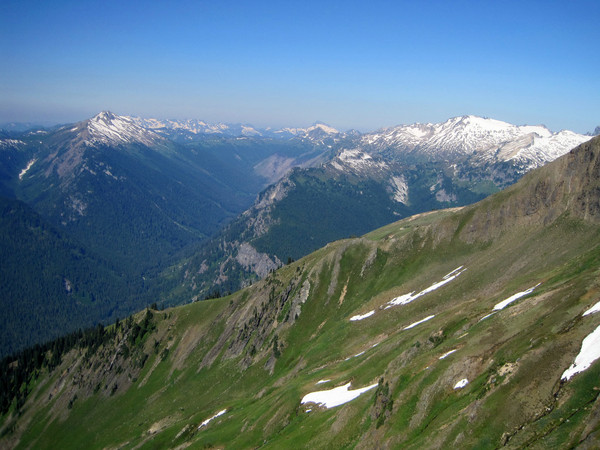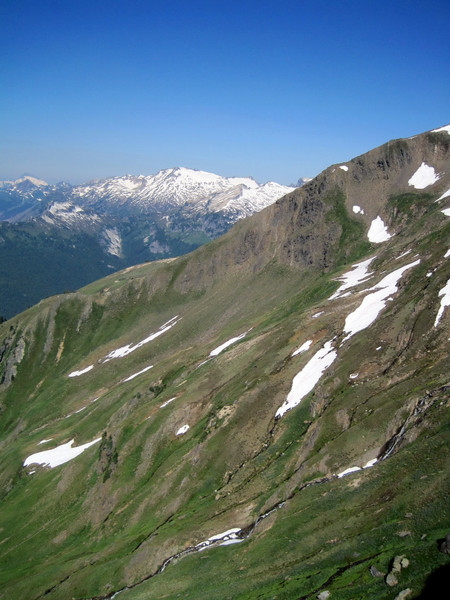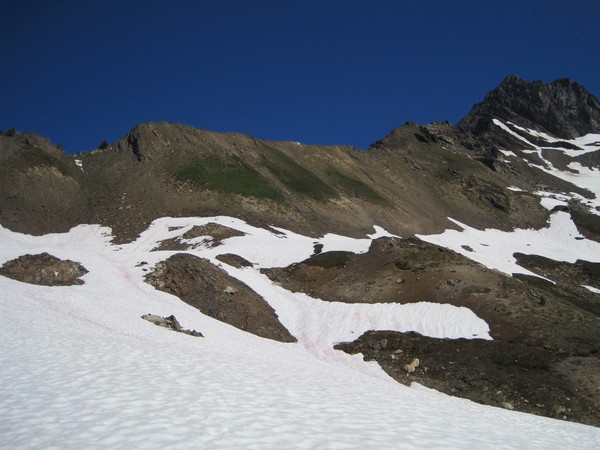 7,200 ft col is middle-right of the photo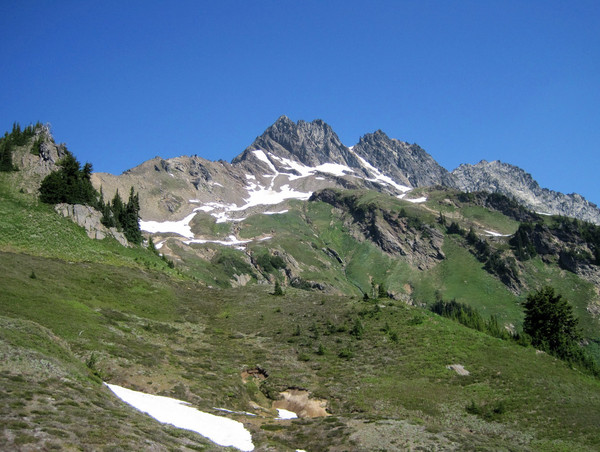 Alp slopes below the Southeast Peak of Clark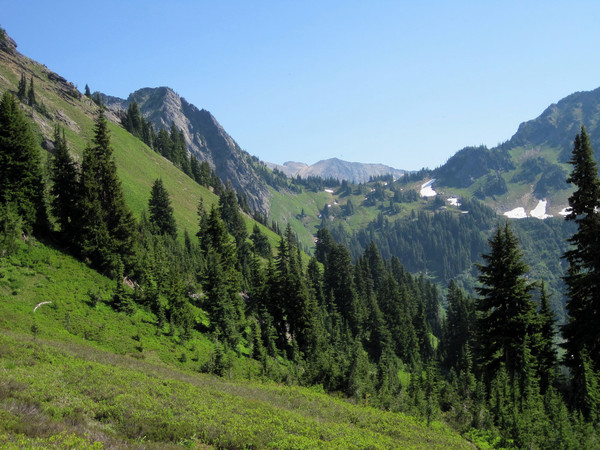 View to Boulder Pass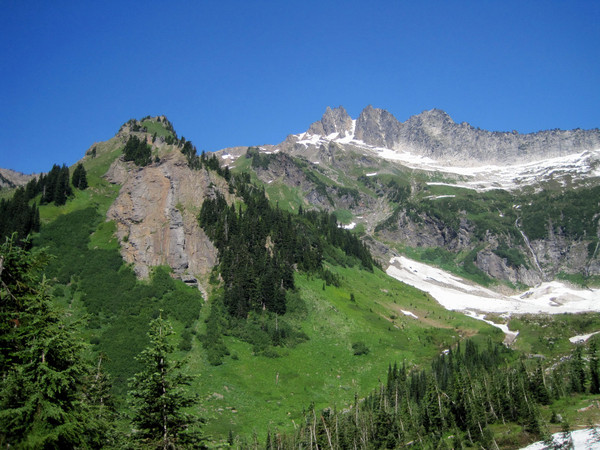 Gear Notes:
Axe and crampons for final snow bits, although they are not required anymore.
Approach Notes:
White River Trail and Boulder Pass Trail have been logged out, but they remain moderately brushy in sections. The "herder path" is also easy to follow and exits the Boulder Pass Trail just before it begins the final ascent up to the pass.