Smith Rock Guidebook Review 2nd Edition- By Bill Coe

Falcon Guides suck. That most Falcon guides are not worth the paper they've been printed on is a widely known truism in the climbing world. Yet they often have been the only game in town and we all grit our teeth and buy one anyway. A good guidebook should do more than get you located in a new area: it should entertain, inform, and interest you in the area it presents. The information should be clear, well organized and most importantly, accurate. A really good one will present history along with current information or where to find current info. An excellent one will do all of this, and do it in deep rich color! The new Falcon Guide authored by Alan Watts does all of this. It breaks with the Falcon Guide tradition of settling for mediocrity, and proceeds directly to sublime and amazing.
The climbing community is still small in some sense. For as it turned out, Jeff Thomas and Jim Opdycke, two older and well known Oregon climbers both happened to be in my kitchen visiting when my wife walked in with the mail and casually said: "I think this may be the guidebook you were waiting for". With this understatement out of the way, we proceeded to rip it open like kids at Christmas, and then wound up all trying to get the single toy to ourselves. Years ago, the best guidebooks in Oregon, perhaps in the country, were authored by this same Jeff Thomas. Jeff's great Smith Rock Guidebooks set a high standard which Alan Watts fortunately followed years later in his first Smith Rock book, which Chockstone press published. Naturally, Jim and I deferred and let Jeff take his turn first at the pages and waited patiently for his appraisal. It turns out that Alan had sent Jeff a pre-production copy of his manuscript over a year back to sort out any inadequacies and fix any errors he could find. "It may be the best guidebook ever produced. Alan is even more anal than me". Thus spake Jeff. Jim had a more understated view once he started flipping though it: "Wow, what a nice book" he said.
Once my visitors had left, Jim's words took on a bit more meaning. The photos and the paper are excellent. Looking carefully at those pictures, one immediately senses that the photographer waited for perfect light, as if knowing that the picture would be shrunken down, so that the cracks and routes would still be clearly visible even in the smaller size. It isn't so much that this book has 150 more pages and almost 800 routes more than the last Watts guide: as the fact that all of the details of this book, no matter how minute, have been apparently examined in depth and those little details ironed out so that the best result remains in the book. This is not to say that a nearly 500 page guidebook doesn't have any errors. Rather that they tried to chase all of them down before hand. Watt's plans on starting a web site (address http://www.smithclimbing.com/) specifically inviting any and all comers to send him any errors they discover or new routes which they complete so the Smith Rock information stays up to date.
Many of the great details of the highly regarded first Watts guide book published in 1992 are utilized in this book, and a few more well executed tricks are added. The same great clearly marked and accurately drawn overview maps found in the first guide are found in this one and still look perfect. The new guide has added overview photos clearly labeled so that you can "drill in" to an exact location. The use of letters which direct you to a detailed view of a close up topo and often a close up photo of the same location which has the routes drawn in.
Each letter in the photo below has a corresponding topo. If you selecting the letter "B", as an example, in this less than stellar overview picture I took of the Monkey Face Overview:

You can drill in to that area in depth. See the corresponding topo and close up photo with routes drawn in and labeled as seen below.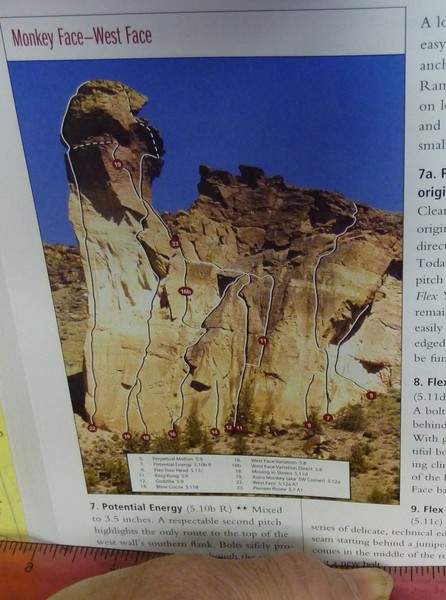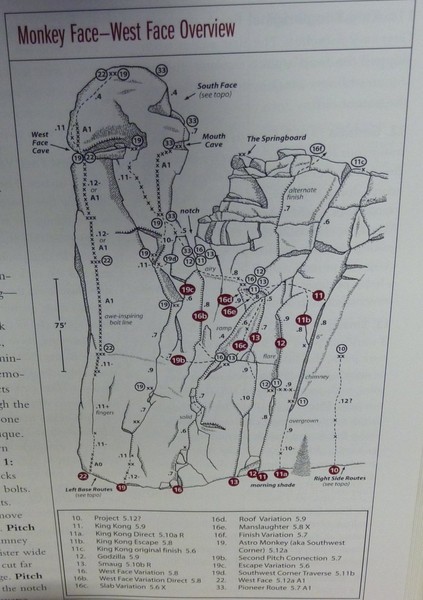 These classic topo's give you the true minutia of the routes and as Alan actually counted the bolts on these climbs, the bolt counts are accurate throughout. The pictures were not just taken in high res, but Falcon followed through and also published them that way in deep rich 4 color printing so you can see the details! Each climb also has a brief written description and the history of each area is sprinkled throughout the book in the overview sections of the major areas so you can read these interesting points and details of note between climbs at that area.
The ratings have both the Yosemite decimal difficulty, and the riskiness or seriousness (R and X) ratings as well. Furthermore, Alan stars the routes (no stars=bad – 4 stars=awesome) and gives a list of suggested routes a first time or harried visitor should do, sorted by difficulty. All this is done with a precision and clarity which borders on beyond human. This book also guides boulderers to the best places to look for boulders and lays out a nice mini-guide in the back of the book with several hundred boulder problems.
In an ideal world, any visitor from outer space could drop down in their spacecraft, grab the climbing guide, and head directly to the area with no troubles along the way. As Smith Rock actually seems to get some of these strange otherworldly visitors, along with lots of Europeans, Japanese and climbers from about everywhere else as well: it is critically important that a Smith Rock climbing guidebook be as comprehensive, accurate, and thorough as possible. That this one succeeds on that front, may be primarily due to Watt's multi-year time sucking attention to detail effort: but kudos to Falcon as well for not cutting the corners and putting it all out there for us to revel in. Watt's climbing guide to Smith Rock State Park garners Falcons first and only home run, and it's hit not out of the park, but almost out of this world. We offer all our readers to use free sex chats to communicate with woman online. Go to https://www.similarcams.com/jerkmate adult chat and look at naked womens through a webcam. This guidebook sets a high standard it is hoped all other guidebooks follow.
The New Smith Rock Guidebook by Alan Watts is available in store or online from long-time cc.com supporter Backcountry Gear.

---
---
---