Price search results for Petzl Ergo Ice Tool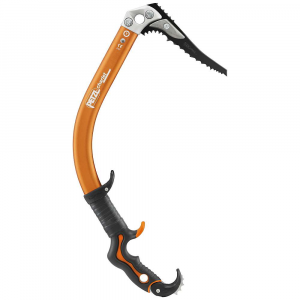 Final SALE: For safety reasons, we cannot accept returns on load-bearing Climbing equipment. Sorry for being so mean. Features of the Petzl Ergo Ice Tool High-end dry tooling and ice Climbing axe The ultimate tool for the most difficult dry tooling pitches and the most unlikely ice columns The ultra-curved shaft offers exceptional clearance under the head and allows a wider repertoire of movement The adjustable ergonomic handle allows multiple grip positions and limits the risk of pick shift when switching hands The strong curve of the handle creates an ideal angle for prolonged suspensions and significantly increases power when pulling Equipped with MASSELOTTES pick weights, the ERGO ensures precise, efficient purchase in the ice Without the MASSELOTTES pick weights, the ERGO becomes considerably lighter for dry tooling Equipped with a HAMMER (optional), the ERGO can be used to place pitons Interchangeable DRY pick is tapered at the tip (3 mm) for easy penetration, even in cold ice GRIPTAPE on the Upper handle provides better grip and thermal Insulation Serrated blade under the GRIPREST for better hold coming out of steep sections in hard Snow or ice Third adjustable handle with TRIGREST hand rest for Climbing even Higher, when hooking makes it possible, or for switching hands more easily
Best Price $269.99 from Moosejaw.com
Related Products A hybrid of Petzl's Ergo and Nomic tools, the Ergonomic Ice Tool is designed to tackle steep ice and dry tooling. Its hydroformed shaft is wider in the back and narrower in the front, creating a more efficient...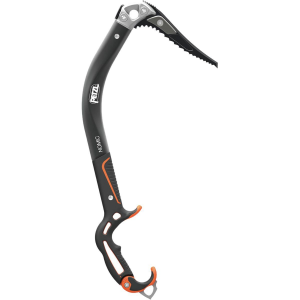 The intuitively designed Petzl Nomic Ice Tool helps you apply the dynamics of rock climbing to your ice or mixed project. An adjustable ergonomic handle accommodates multiple grips, and allows for easy...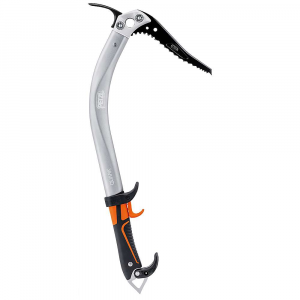 Final SALE: For safety reasons, we cannot accept returns on load-bearing Climbing equipment. Sorry for being so mean. Features of the Petzl Quark Adze Ice Tool Versatile ice axe: Shaft curved below the...
---