NRS OverHaul Deck Bag NRS OverHaul Deck BagThe NRS OverHaul Deck Bag is the perfect day pack for the touring kayaker. Store your snacks, water, map, extra hat, gloves and safety essentials conveniently within arm's reach.Adjustable bungee lacing holds bilge pump, paddle floats and other essentials at the ready.Double-pull main zipper works with one hand for easy access.Zippered mesh outer pocket on the flap keeps smaller items extra handy.Easy carry handle doubles as a convenient place to attach a carabiner or paddle leash.The plastic insert preserves the bag's shape and reflective strips increase visibility.Tough hook-and-loop straps lash easily to deck rigging.Durable 400-denier nylon construction.
Best Price: $70.00 from Bahnhof.com
Related Products The NRS mesh Deck Bag is perfect for storing touring accessories that you need quick access to. Constructed of hefty mesh material that drains quickly, this bag can hold waterproof gear, a paddle float...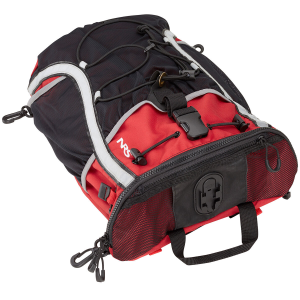 Keep your snacks, rain gear, maps, and gadgets-as well as safety essentials such as your bilge pump, paddle float, and sponge-close at hand with the roomy NRS Taj M'Haul Deck Bag. . Inner dry bag is made... NRS Sea Kayak Mesh Deck Bag
---