Mammut Men's Snow ML Half Zip Pull Ready for your next adventure, the Mammut Snow ML Half Zip pullover features a super-soft brushed outer, and animicrobial finish, so you can travel on without worry of odor, and a zipped collar to regulate temperature. Comfortably soft, brushed material Antimicrobial finish to help prevent unpleasant odors Quick-drying Dynamic cut Zipped collar Flatlock seams for extra elasticity on the junctions to prevent abrasion Athletic Fit
Best Price: $62.96 from Bahnhof.com
Related Products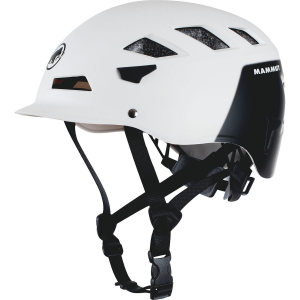 Named for the looming vertical master, the Mammut El Cap Climbing Helmet boasts a tech-savvy design that its namesake would deem worthy. Protect your head and focus on your vertical progress. Mammut 10.2 Gravity Classic Rope
FeaturesUIAA Falls (1 strand 80 kg) 10-11 Weight in grams/meter 70 Sheath Slippage in mm 0 Impact Force in kN 8.9 Elongation with 80 kg 6.8% Elongation at 1st drop (fall) 31% Proportion of sheath 40%Item... Features100 gm Classic figure 8Item No. 3196365
---