Price search results for Black Diamond Xenos Harness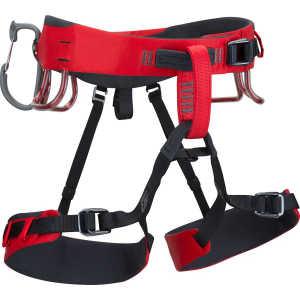 Black Diamond focused its efforts to make the Xenos Harness primarily for ice, mixed, and alpine climbing. But we all know it's impossible to stay away from the vertical world just because the snow has melted, so go ahead and strap this bad boy on for some rock pulling as well. Its Kinetic Core Construction makes the Xenos sleeker, lighter, and more comfortable so you barely notice it's there while you make your send. Pre-threaded Speed Adjust and leg loop buckles mean you don't have to double-back; just cinch them down and head up. A bullhorn-shaped waist belt is very comfortable when you're hanging on a rope to scope out the next pitch. Six Ice Clipper slots let you put your clippers where you want all the time despite how many layers you wear. Four pressure-molded gear loops stay in place so you don't struggle unclipping gear during critical moments. Black Diamond inserted a padded lumbar for more comfort than before, and the water-shedding construction means you won't have a wet harness at the end of a snowy day filled with winter cranking and ice climbing.
Related Products LOADED WITH FEATURES FOR A BIG WALL MISSIONThe ultimate big wall, aid climbing harness, the Big Gun is loaded with features to make your long days aiding in the vertical more comfortable and efficient.... THE CLASSIC WORKHORSESimple, versatile and comfortable, the Bod provides the essentials for all vertical adventures with a functional fit. FEATURESFleece-padded waistbelt with traditional buckleQuick-release... Black Diamond Alpine Bod Harness
THE SIMPLE AND DURABLE HARNESSWith proven performance since sometime around the Pleistocene, the A-Bod is simple, minimal, perfected and classic. FEATURESTraditional buckleQuick-release leg loopsFour gear...
---