Price search results for Black Diamond Stinger Crampon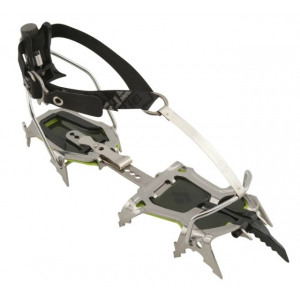 Black Diamond Alpine & Ice Climbing Stinger Crampon BD4000290000ALL1. An asymmetrical design fits the contours of modern mountain boots and thin low-profile heel and toe wires offer a precise fit for less weight.
Related Products Crampons and soft gear mix about as well as ten people in a four-person elevator. Stash your mighty 'pons in the rough-and-tough Black Diamond Crampon bag to make sure there aren't any hurt feelings, ropes,... Black Diamond Neve Pro Crampon
Black Diamond Neve Pro Crampon: A lightweight 10-point aluminum crampon, the Neve is ideal for mountain snow travel and climbing where steel crampons would be overkill. Style number BD400072 The Black Diamond Raptor Crampon bolts directly to your boot to give you a level of ice and mixed climbing performance unavailable with standard crampons. A removable heel spur helps you tackle the steepest...
---