Price search results for Black Diamond Oz Quickdraw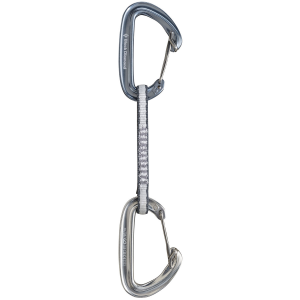 Black Diamond Oz Quickdraw
Related Products Black Diamond HoodWire Quickdraw
The HoodWire Quickdraw is Black Diamond's superlight option for convenient clipping whether you're climbing trad or sport. Its HoodWire carabiners have hooded gates to ease clipping and cleaning just like... Black Diamond Nitron Quickdraw
Black Diamond's premier full keylock quickdraw for snag-free clipping and cleaning, the Nitron features two 100% hot-forged Nitron carabiners and a lightweight, durable 14 mm Dynex dogbone. Hot-forged... Black Diamond Positron Quickdraw
With two Positron carabiners and a lightweight Dynex dogbone, the Black Diamond Positron Quickdraw is our top value in full keylock functionality. The light, smooth-clipping design eliminates snags whether...
---