Black Diamond Distance FLZ Trekking Poles Bringing together the best of Black Diamond's collapsible Z-series and adjustable FlickLock design, the Distance FLZ Trekking Poles are lightweight, durable sticks for everything from short hikes to heavily laden multi-week treks. They're made of tough aluminum, which will offer plenty of support without breaking and have EVA foam grips with lightweight foam extensions and breathable padded straps to offer support on rocky crossings, steep ascents, and treacherous sidehills. The FLZs' real trick, though, is their three-section collapsible shafts and FlickLock Pro length adjustment system. By pushing a button and pulling on the grip, you can collapse and assemble the pole as you would an avalanche probe. Once assembled, the FlickLock Pro provides a bomber adjustment mechanism, giving you 20cm of adjustment so you can always find the perfect fit regardless of terrain. Black Diamond also included interchangeable carbide and rubber Tech Tips for grip on various surfaces, so you'll be confident no matter where your adventures take you.
Best Price: $82.47 from Backcountry.com
Related Products Black Diamond Distance Z Trekking Poles
A versatile pole designed for everyday use by trail runners, day hikers and backpackers, the Distance is our most affordable Z-Pole.Whether a classic ridge run is calling your name or a spicy day hike... Black Diamond Distance Carbon FLZ Trekking Poles
When there's serious distance on the day's agenda, the superlight design and bomber support of the Black Diamond Distance Carbon FLZ Trekking Pole comes in pretty handy. With a shaft made of pure carbon...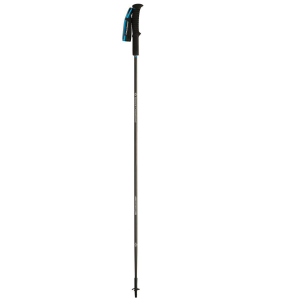 Black Diamond Distance Carbon Z Trekking Poles
The Distance Carbon Z Trekking Pole is the lightest collapsible pole that Black Diamond makes, which means it's perfect for long-distance treks, speed hiking, and even ultrarunning. As you'd expect, it's...
---