Arundel Cork Bar Tape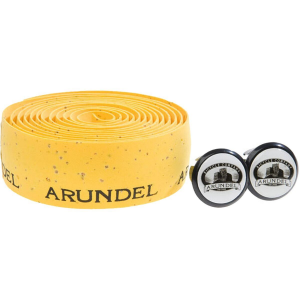 While we don't doubt that 20 years from now we'll be riding 6lb bikes with telepathic shifting and hydraulic braking, we're fairly sure we'll still rely on cork handlebar tape. Cork is just thick enough to absorb a bit of road shock; it's just tacky enough so your sweaty hands won't slip when you move from hoods to tops; and by putting a fresh wrap on your bars you make your bike like pretty much new. Can you really improve upon that' We don't think so. Our pals at Arundel -- creators of the world's best bottle cages -- now make bar tape. It comes in a variety of solid colors. In each color you get "Arundel" printed along the tape, with cork flecks subtly visible throughout the tape. And one important detail is that it has an adhesive strip on the back, which makes installing it super-easy. The actual weight of the Arundel Cork Handlebar Tape is 56g.
Best Price: $19.95 from Backcountry.com
Related Products We all need to make a little noise at times on the roads, and we agree with the guys at Arundel who argue that the sweet ring of a bell sounds much, much better than yelling. With their smooth, rounded... We must confess that the thought of putting any seat-mounted bottle carrier on our bike fills us with revulsion; it makes any bike look like a golf cart. But since it is Arundel making this Tri Clamp Kit,... The Arundel Uno Seatbag is the perfect size for carrying a tube, lever, CO2 cartridge and inflator, as well as some extra cash on extended bike tours and epic trail rides alike. Its well-executed design...
---