Armada Triad Ski Poles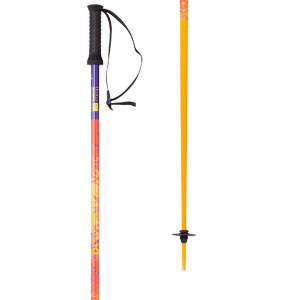 You won't find adjustable gizmos, super ultralight carbon fiber, or metal-piercing carbide tips on the Armada Triad Ski Pole--but then again, why does everything have to be so complicated' Its aluminum shaft keeps the pole light and strong, the rubber grip ensures you hold onto the pole when your ride gets intense, and the steel tip jabs into snow just as good as anything else out there.
Best Price: $39.95 from Backcountry.com
Related Products Armada Triad Ski Poles - Women's
Cruise groomers, shred bumps, and maybe even duck into the trees for a dose of adventure with your Armada Women's Triad Ski Poles in hand. These durable aluminum poles are a solid choice for on-piste ripping,... You won't be able to make up your mind whether Armada's ARV 106 Ski is a freeride floater or freestyle spinner; it's equally good in the park as it is in powder. The wider 106mm waist certainly leads you... The past three years have taught skiers everywhere that nobody flows in powder better than JJ, and Armada's ARV 116 JJ Ski is back for a third generation to blur the line between freerider flow and hard-charging...
---