Arc'teryx Voltair 30 Backpack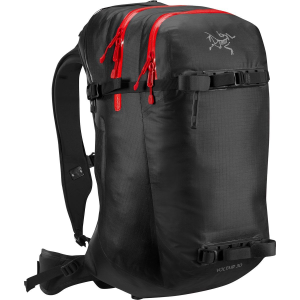 The last thing you want to be doing is fumbling with your avalanche airbag when cracks shoot out from your ski tips and the snowpack collapses beneath your feet. Just as you are with any other avalanche rescue tool, you need to be dialed with your airbag so it becomes second nature to pull that cord when the worst happens. The Arc'teryx Voltair 30 Backpack gives you the ability to do this with a fan-powered system that can be deployed multiple times a day, so you'll have no excuse not to practice with your pack throughout the season. Arc'teryx's Voltair airbag system utilizes a 22. 2V lithium-ion polymer battery (sold separate) that's rechargeable and capable of inflating the bag upwards of 20 times a day in temperatures as low as 14F. The simple and intuitive deployment system consists of an always-exposed mechanical pull that can be quickly unlocked and deployed with just a quick twist and pull. The mechanical deployment system does away with any hiccups that may come with an electronic system, ensuring the bag deploys when it matters most. Once activated, the centrifugal blower rapidly inflates the airbag in under seven seconds, then it ensures the bag maintains proper inflation by pushing additional air in the bag every five seconds after the initial deployment. The pack itself maintains a simplistic design that consists of two main compartments and a dedicated avy tool pocket to stow your climbing skins, shovel, probe, and saw. External straps along the front of the bag will carry either skis or a snowboard and single ice axe when traveling in the alpine. A key component to any avalanche airbag is the pack's leg loop, so Arc'teryx gave the Voltair a simple and comfortable one-handed, glove-friendly wiregate leg loop clip, so you won't be tempted to leave it unclipped before you drop in. The water-resistant fabric repels moisture from snow and spindrift, and the water-resistant zippers ensure a water-tight closure to the pack, so you aren't surprised by any...
Best Price: $1300.00 from Backcountry.com
Related Products Arc'teryx Voltair 20 Backpack - 1220cu in
While a bunch of needless bells and whistles may earn some oohs and hhs on the trade show floor, most backcountry travelers prefer intuitive use and simple functionality when using their gear out in the...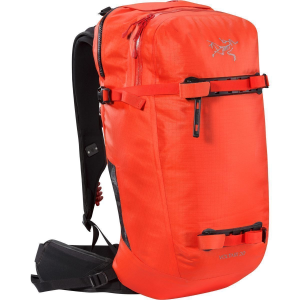 Arc'teryx Voltair 20L Backpack Combo - 1220 cu in
The Arcteryx Voltair 20L Backpack's rechargeable airbag doesn't grant you unlimited access to avalanche terrain--you still have to be safe and smart in the backcountry, but this pack does provide some... Arc'teryx Voltair 30L Backpack Combo - 1830 cu in
While the Arcteryx Voltair 30L Backpack doesn't give you the go ahead to drop big lines on high-danger days, it does increase your odds of surviving a slide. This electronic fan-powered airbag sets itself...
---