Price search results for Arc'teryx Voltair 20L Backpack Combo – 1220 cu in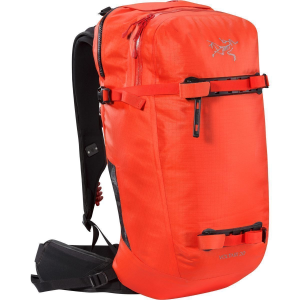 The Arcteryx Voltair 20L Backpack's rechargeable airbag doesn't grant you unlimited access to avalanche terrain--you still have to be safe and smart in the backcountry, but this pack does provide some extra peace of mind when traveling in avalanche terrain. Sure, this advanced airbag allows multiple deployments before needing another charge, but hopefully you'll never find yourself in a situation where you have to deploy this bag once, let alone multiple times.Part of what sets this pack apart from other avalanche airbags is the Voltair utilizes a battery that is easily removed during airline travel and still performs in temperatures as low as -22F. This battery powers the airbag's centrifugal blower to achieve the same pressure and fill rates as airbags with gas cartridge systems, and the blower pulses air after deployment to ensure the bag remains throughout the duration of a slide.Going beyond the Voltair's airbag, this backpack boasts a capacity suitable for dawn patrols and fast-and-light days in the backcountry. Arcteryx made it out of highly durable nylon with seam-taped, weatherproof technology. The pack's suspension system features stable aluminum stays, padded shoulder straps, and a padded waist belt with a single leg loop for additional safety. It carries skis and snowboards diagonally, a single ice axe, and there's a weatherproof sleeve designed specifically for avalanche gear.
| Retailer | Product Name | Price | |
| --- | --- | --- | --- |
| Backcountry.com | Arc'teryx Voltair 20L Backpack Combo - 1220 cu in | $1630.00 | Buy Now |
Related Products Arc'teryx Voltair 30L Backpack Combo - 1830 cu in
While the Arcteryx Voltair 30L Backpack doesn't give you the go ahead to drop big lines on high-danger days, it does increase your odds of surviving a slide. This electronic fan-powered airbag sets itself...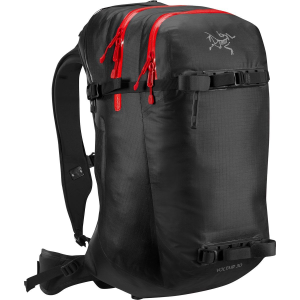 The last thing you want to be doing is fumbling with your avalanche airbag when cracks shoot out from your ski tips and the snowpack collapses beneath your feet. Just as you are with any other avalanche... Arc'teryx Voltair 20 Backpack - 1220cu in
While a bunch of needless bells and whistles may earn some oohs and hhs on the trade show floor, most backcountry travelers prefer intuitive use and simple functionality when using their gear out in the...
---