Arcteryx Rush Glove The Arc'Teryx Rush Glove is a waterproof glove for skiing and SnowBoarding. The mountains can have some seriously cold weather and when you mix that with Snow or rain, your hands don't stand a chance. These hand covers feature 3L Gore-TEX Pro for waterproof protection when carving your way through the Snow on skis or Board. The leather palm and finger overlays offer plenty of grip, especially since the gloves themselves have been built with TriDex(TM) construction for dexterity. All that, plus PrimaLoft; Silver Insulation and PrimaLoft Gold Insulation Eco with Grip Control surround you from wrist to digit with plenty of warmth. Secure the Velcro wrap and the low profile design hides with ease under your jacket cuff. Features of the Arcteryx Rush Glove Highly breathable N70p 3L Gore-Tex Pro back of the hand Leather reinforced palm and fingers for better protection and improved grip TriDex construction for exceptional dexterity and breathability 133 g PrimaLoft Silver Insulation (back of hand) 100 g PrimaLoft Gold Insulation Eco with Grip Control (palm and fingers) bonded to shell and lining for better grip and dexterity Low profile, short, trim, adjustable Velcro cuff and integrated elastic enables a precision Fit and slides easily under jacket cuffs Soft, brushed liner envelops the hand from finger tip to wrist DWR treated nylon inner cuff sheds Snow and moisture easily Fully seam-sealed for waterproofness Removable wrist leash Seam-free fingertips improve dexterity A light weight and soft feeling textile Tightly woven construction Features a plain weave with textured false twist fill yarns Highly abrasion resistant for its weight and soft hand. Durable woven backer and DWR finish
Best Price: $259.00 from Moosejaw.com
Related Products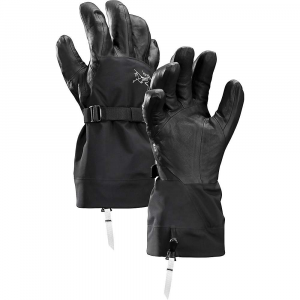 Features of the Arcteryx Rush SV Glove Full leather overlay adds durability and longevity Gore-Tex fabric is waterproof, windproof and weather proof Tri-Dex Technology gives exceptional dexterity and precision...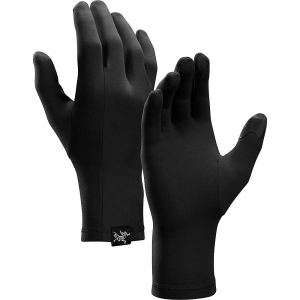 Features of the Arcteryx Rho Glove Torrent 190 fabric has stretch and thermal value High stretch properties make it comfortable and pliant Touch screen sensor compatible pad on thumb and index finger Excellent... The Arc'Teryx Agilis Glove is a ski glove for protection as you finish off the season in the early spring. Built with a short cuff that Fits under the jacket, the Velcro closure wraps it close to your...
---