Price search results for Arc'teryx Fission Gore-Tex Mitten Someone once said, "If you're cold, you're not wearing the right gear." Hearing that, Arcteryx combined the waterproof Gore-Tex technology with not one...not two...but three different types of insulation to make the Fission Mitten.Gore-Tex XCR technology helps to prevent moisture from creeping through when the snow is waist deep, while still maintaining a high level of breathability so you can leave them on when earning your turns. The outer top shell stretches with your fingers, so you won't have to take your gloves off to unzip your pack or tighten your boots, but is durable enough to withstand frequent brushes with trees. Additionally, the palm and fingers are reinforced with rugged leather to help keep your poles securely in your hands.Three varieties of PrimaLoft insulation were strategically mapped and placed throughout the Fission Mitten to provide optimal warmth without sacrificing dexterity. Designers doubled up insulation on the back of the hand, where your hand is most exposed to the elements. Over the fingers and palms, where dexterity and grip is crucial, Arc'teryx used a low profile Grip Control insulation that stays warm when compressed and helps to reduce bulk and packing out over time.
Related Products Designed to be worn standalone or layered underneath a waterproof shell, the Arc'teryx Down Mitten provides lofted, furnace-like fervor--without making your hand feel as though it has a ten-ton brick attached... When the face you're preparing to climb is cold, icy, and windy, pull on the Arc'teryx Alpha SV Mitten. The Gore-Tex three-layer outer shell shields your hands from water and ice and stands up to abrasion,...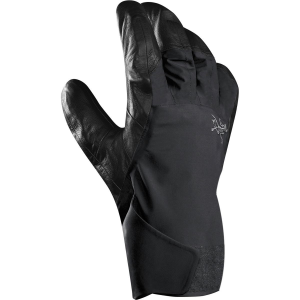 Arc'teryx Rush Gore-Tex Gloves
When imagination and big mountain dreams take the wheel, let the Arc'teryx Rush Gore-Tex Gloves steer the way toward careful, calculated clarity. Whether you're reaching for high-hanging fruit in Chamonix...
---