Price search results for Arc'teryx FL-355 Harness – Women's Built for women who climb ice, rock, and alpine routes, the Arc'teryx Women's FL-355 Harness combines high performance with an incredibly lightweight construction for unrivaled versatility. With an exceptionally comfortable women-specific fit, the FL-355 is made from Burly Double Weave four-way stretch material that is both strong and flexible. Type 66 nylon webbing is found in the elasticized, fixed Sure Fit leg loops that automatically adjust for a precise fit, no matter your size or how many layers you're wearing, allowing you to take this harness from the gym to the ice wall. With its longer belay loop, it accommodates the women's differential between waist and leg loops. Equipped with Arc'teryx's signature Warp Strength Technology, the FL-355 equally distributes weight across the entire harness for lasting comfort, instead of loading a single strip of webbing in the center which creates uncomfortable pressure points. Meant for use in in any condition, this harness is outfitted with a self-locking buckle, four ice clipper slots, four gear loops, a rear haul loop, and a stainless-steel quick hook that allows you to use the bathroom without having to remove anything.
Related Products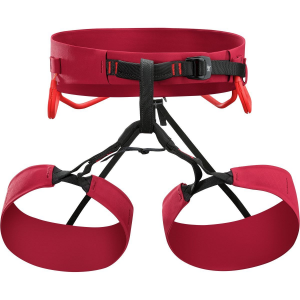 Arc'teryx FL-365 Harness - Men's
You can rely on the Arc'teryx Men's FL-365 Harness for fast and light climbs whether you're on rock, ice, or something mixed in the alpine. Warp Strength Technology separates the webbing inside this versatile... At a mere 12 ounces, the SL-340 Harness is a sport climber's dream as well as Arc'teryx's lightest and most compact yet. Warp Strength Technology offers a surprising amount of support and and balanced... Arc'teryx AR-385a Harness - Women's
With a women's-specific fit and Warp Strength Technology, the Women's AR-385a Harness from Arc'teryx provides comfortable safety for all your climbs. Adjustable leg loops that automatically double back,...
---