Arborwear Cedar Flex 3-in-1 Jacket – Men's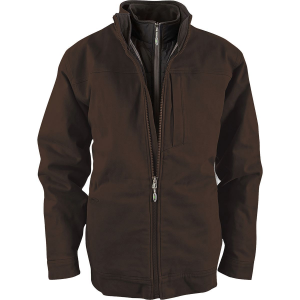 The Aborwear Men's Cedar Flex 3-in-1 Jacket is your fall wood-splitting jacket, your spring next-to-the-campfire jacket, and your winter waiting-for-the-truck-heater-to-warm-up jacket all in one. The tough outer shell provides a sturdy defense against wind chill while the fabric's incorporated spandex maintains a flexible fit for when you're working outside. The insulated jacket, that can easily be zipped out and worn on its own, has been treated with a fabric protector to help repel water and oil-based liquids. In addition, the Cedar Flex comes with trustworthy hardware zippers to help ensure long-lasting use.
Best Price: $228.95 from Backcountry.com
Related Products Stop messing around with thin, flimsy britches and equip yourself with the Arborwear Men's Cedar Pants. Their Cedar Flex fabric has just a touch of spandex to keep them comfortable, but with reinforcements... Arborwear Rockhaven Pant - Men's
Your work in the field is demanding, to say the least, and few pairs of pants are up to the task. Don't fret though, because Arborwear made the Men's Rockhaven Pants to exceed your high demands. They're... Arborwear Tech II Pant - Men's
Built to handle long days on the job and outdoor excursions, the Arborwear Men's Tech II Pants put your average pair of pants to shame. They're built with a tough, yet lightweight nylon fabric for unwavering...
---