Appaman Turnstile Convertible Jacket – Boys'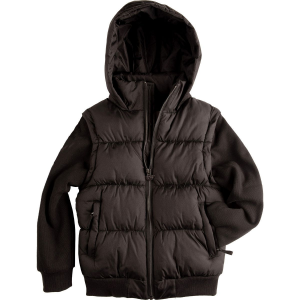 Junior rarely stops moving, and you've learned the hard way that he can't stand being overly buttoned up in bulky outerwear. On days when his morning walk to school is chilly, but a strong sun and blue skies promise a warmer afternoon, send him out the door in the Appaman Turnstile Convertible Boy's Jacket. As a fully insulated vest with zip-off cotton arms, the Turnstile quickly adapts to busy schedules and changing conditions. Breathable synthetic fill keeps his core warm while he commandeers a game of tag at recess, while the removable arms have the soft, broken-in feel of his favorite sweatshirt to keep him warm as the afternoon cools.
Best Price: $63.22 from Backcountry.com
Related Products Appaman AJ Pant - Toddler Boys'
These pants are like pajama pants that are socially acceptable to wear outside. If these were for an adult they'd be called "jogger pants", but since Appaman makes these specifically to fit toddler boys,... ---