Price search results for Appaman Adler T-Shirt – Girls' Her first day of school has come and gone, but your little girl still looks forward to what she's going to pick to wear in the morning. The Appaman Girl's Adler Shirt boasts a casual, comfortable fit that can be thrown over a pair of jeans when you're rushing to get her out the door or tucked into a skirt to dress up for a class party. And with prints ranging from adorable to silly to classically feminine, she can pick a style that best expresses her personality.
Related Products Appaman Adler T-Shirt - Toddler Girls'
It seems like just yesterday she was rolling around the living room like a little beached whale, and now she's cruising around the playground at alarming speeds. Dress her in the Appaman Toddler Girls'...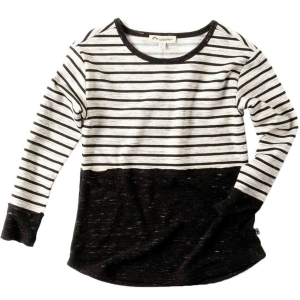 The two-tone Girl's Luna T-Shirt by Appaman is as cute as it is versatile. If she's headed to a friend's birthday party, dress it up with a pair of leggings and flats. Or if you're going to walk the beach... ---