Price search results for Anon Raider Helmet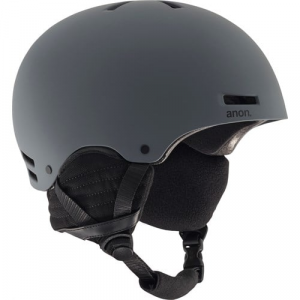 No-fuss function is the name of the game, and the Anon Raider Helmet is throwin' points up on the board like nobody's business. With an Endura-shell ABS construction, the Raider is extra durable and ding-resistant, too. It'll stay protecting your noggin, and looking good while doing it, season after season. Simple Fit capabilities allow you to quickly and easily remove your ear pads and liner, so you can fit your favorite beanie and goggles under your helmet, if that's your style. Passive ventilation moves hot air out, and draws fresh air in, so you don't overheat and your goggles don't fog. It's safe to say that this helmet is a real winner... and you will be, too, once it's yours.
Related Products Wear the Anon Blitz Helmet, and hit it hard. The Endura-Shell two-piece construction features an injection-molded ABS exterior to increase durability and make it long-lasting. The Blitz's brim keeps the... We've all been there, charging down the mountain making glorious turns one second, only to catch an unexpected edge or get bucked off-balance in a turbulent tomahawk the very next moment. Prepare yourself... Make sure you live to ride another day with the help of the Anon Endure Helmet. It's built with innovative design features and materials to provide long-lasting protection while offering lightweight comfort....
---