Price search results for Anon MFI Lightweight Neck Warmer – Women's When the lift dumps you at the top of the mountain and there's nothing but untouched powder all around, pull up the Anon Women's MFI Lightweight Neck Warmer and try to hold back the exhilarated whooping and hollering. A more lightweight version of Anon's standard, this neck warmer keeps the cold smoke from freezing your face and neck. With a laser perforated exhaust panel to prevent moisture buildup and breathable, moisture-wicking performance fabric, it keeps you comfortable run after run. Magnetic panels snap seamlessly into MFI-compatible goggles, for a gap-free fit that will fend off chilly temperatures and blowing snow.
Related Products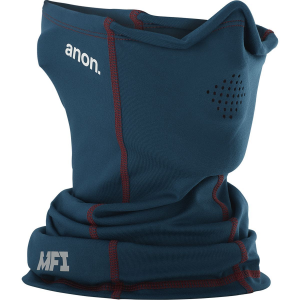 Anon MFI Mid-Weight Neck Gaiter
A little lighter than its standard cousin for warm-weather versatility, the Anon MFI (Magnetic Facemask Integration) Mid-Weight Neck Gaiter keeps the cold smoke from freezing your perfect skin and your... We've all been there, charging down the mountain making glorious turns one second, only to catch an unexpected edge or get bucked off-balance in a turbulent tomahawk the very next moment. Prepare yourself... Make sure you live to ride another day with the help of the Anon Endure Helmet. It's built with innovative design features and materials to provide long-lasting protection while offering lightweight comfort....
---