Price search results for Anon M3 Bode Merrill Pro Model Goggles with Bonus Lens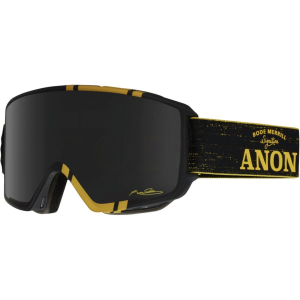 Remember the days when anything related to protecting your eyes was crafted with real glass' Well, if you don't, the folks over at Anon Optics surely do, and not only have they gone above and beyond the aforementioned stone ages with the M3 Bode Merrill Pro Model Goggles with Bonus Lens, but they've set the stage for future generations. The M3 is crafted with 18 rare earth magnets that ultimately serve as nine points of connection, which not only makes swapping out that Bonus Lens mega easy, but it also has a heavy-duty retention rate so it won't go flying should you tomahawk down the hill. Additionally, the M3 comes fully equipped with a triple layer of foam for optimal comfort and wall-to-wall visibility, and its cylindrical lens technology reduces distorted vision, while most goggles end up warping your point of view. And of course, the M3 is glasses compatible, so if you're one of the fine folks who needs a little extra help in the visibility department, these goggles don't discriminate. The M3 also comes with a spare graybird lens, MFI magnetic facemask for those super blustery days, a goggle case, and a microfiber goggle bag. Proposition 65 Warning for California Consumers: This product contains chemicals known to the State of California to cause cancer and/or birth defects or other reproductive harm.
| Retailer | Product Name | Price | |
| --- | --- | --- | --- |
| Backcountry.com | Anon M3 Bode Merrill Pro Model Goggles with Bonus Lens | $289.95 | Buy Now |
Related Products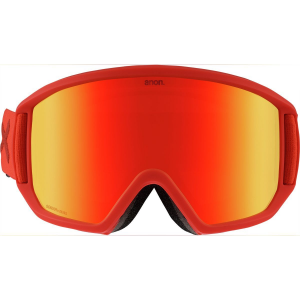 Anon Relapse MFI Goggles with Bonus Lens
Although it may have a classic look, the Anon Relapse MFI Goggle is packed with plenty of modern tech to keep you ready for whatever conditions you come across. An integrated facemask protects you from... Anon M2 Goggle Replacement Lens
Since conditions vary widely when you're out on the mountain, it's nice to have different replacement lens options on hand for your Anon M2 goggles. There's an M2 Goggle Replacement Lens that's right for... Anon M3 Goggle Replacement Lens
You might need a new closet for how many different lenses you're going to amass. Compatible with the Anon Optics M3 Goggle, the M3 Goggle Replacement Lens provides you with a wide variety of options so...
---