Price search results for Anon M2 Goggle Replacement Lens Since conditions vary widely when you're out on the mountain, it's nice to have different replacement lens options on hand for your Anon M2 goggles. There's an M2 Goggle Replacement Lens that's right for bright sun, gray weather, nighttime, and flat lightand switching between them is super-quick and easy thanks to Anon's Magna-Tech quick lens change technology. To help you choose your preferred lens for a particular condition, you can check out the interactive lens visualizer on Anon's website. Once you customize your battery of favorite lens tints, you'll be ready to ride in whatever conditions you're willing to weather. Proposition 65 Warning for California Consumers: This product contains chemicals known to the State of California to cause cancer and/or birth defects or other reproductive harm.
Related Products Anon M3 Goggle Replacement Lens
You might need a new closet for how many different lenses you're going to amass. Compatible with the Anon Optics M3 Goggle, the M3 Goggle Replacement Lens provides you with a wide variety of options so... Anon Mig Goggle Replacement Lens
Get the perfect lens for every type of lighting condition, or simply replace that scratched one you already have with the Anon Mig Goggle Replacement Lens. Proposition 65 Warning for California Consumers:...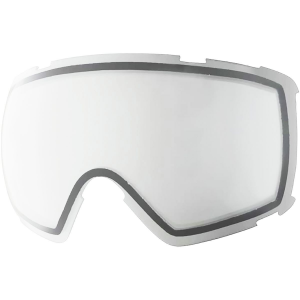 Anon Circuit Goggle Replacement Lens
Rapidly adapt to changing conditions on the mountain with the Anon Circuit Replacement Lens. Available in different tints and mirrored coatings, the Circuit Replacement Lens provides increased contrast...
---