Price search results for Anon Endure Helmet Make sure you live to ride another day with the help of the Anon Endure Helmet. It's built with innovative design features and materials to provide long-lasting protection while offering lightweight comfort. Flex Shell construction fuses a lightweight ABS shell to high-density foam to provide a low-profile and lightweight fit without compromising impact protection. G-Form RPT foam is soft and flexible in its normal state, but hardens up instantaneously upon impact to save your noggin. The Expedition fleece lining keeps your head warm and wicks heat-robbing sweat, while passive vents allow cooling airflow in to prevent you from overheating. Removable ear pads can be taken off on warm spring days or just when you want to wear a balaclava underneath. It's finished off with a Fidlock magnetic buckle that can easily be operated one-handed, even with gloves on.
Best Price $89.97 from Backcountry.com
Related Products Wear the Anon Blitz Helmet, and hit it hard. The Endura-Shell two-piece construction features an injection-molded ABS exterior to increase durability and make it long-lasting. The Blitz's brim keeps the... We've all been there, charging down the mountain making glorious turns one second, only to catch an unexpected edge or get bucked off-balance in a turbulent tomahawk the very next moment. Prepare yourself...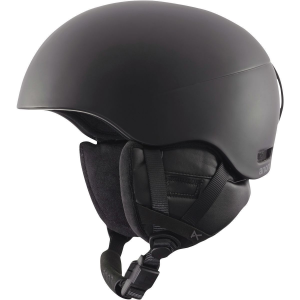 Anon's Helo 2. 0 Helmet is simple, but that doesn't mean it isn't dope. Combining killer comfort and versatility with understated and low-profile style, the Helo 2. 0 will keep your dome safe from drop-in...
---