Price search results for Altra Torin IQ Smart Running Shoe – Men's As wonderful as a personal trainer would be, financing such a luxury does pose its own set of complications. However, with the Altra Men's Torin IQ Smart Running Shoe, you're able to get the personalized feedback you need in order to become a better, more efficient runner. All you have to do is download the Altra IQ app on your phone, lace the Torin IQ to your feet, and get cruising. You're probably wondering how this exactly works. Well, the secret is Altra's IQ system. On the interior of the Torin's midsole is a series of paper-thin sensors that send live data from the Quad Accelerometers to the Altra IQ app on your phone. The Altra IQ maps and monitors your movements, offering live and audible feedback on the following details: impact force/balance, landing zone, cadence, and contact time. Additionally, the IQ app tracks your time, pace, and distance, allowing you to maximize on your efforts and apply the data in real-time. So with that in mind, a comfortable shoe can make all the difference. And the Torin is Altra's best-selling road shoe for good reason. The Torin features an updated, seamless mesh upper that complements the pronounced V-shaped last that Altra is known for. This design feature reduces pressure points and gives your toes room to splay as much as they need as you tackle long endurance runs and short training sessions alike. An EVA midsole provides a responsive feel underfoot, while the generous amount of cushion is more than adept at handling long runs. The A-Bound top layer adds an extra bit of spring, and the even stack height throughout the forefoot and heel promotes a more natural midfoot landing with each stride.
Related Products Altra Torin IQ Smart Running Shoe - Women's
If you've ever dreamed of being able to take biomechanics-inspired analytics and apply it in real-time, then the Altra Women's Torin IQ Smart Running Shoe might just be a dream come true. The Torin IQ...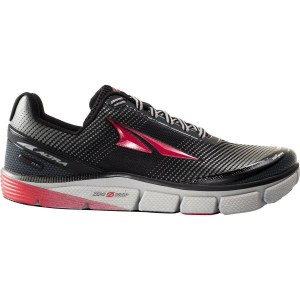 Altra Torin 2.5 Running Shoe - Men's
Whether you're just starting to consider swapping out your traditional kicks for something new, or you've been part of the zero drop club for a while now, Altra gives you plenty to get excited about with... Altra Torin 3 Running Shoe - Men's
Ventilation is key when running or training in high temperatures, which is why the folks at Altra equipped the new Men's Torin 3 Running Shoe to assure better breathability as you rack up the miles on...
---