Price search results for Altra Torin 3 Running Shoe – Women's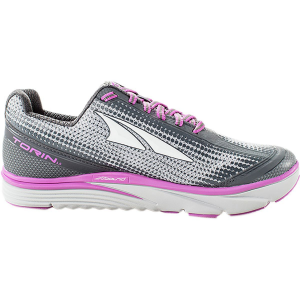 The Altra Women's Torin 3 Running Shoe is equal parts comfortable and durable. Designed to enhance your natural stride without prohibiting what exactly your workout or run requires, the Torin 3 makes its case as an adaptive shoe fit for tempo training, long runs, or strength-based sessions alike. That being said, the original Torin was a bit of a hit, so it should come as no surprise that the Torin 3 will offer comparable performance. However, it does have a few new updates starting with a more breathable upper and better constructed FootPod outsole that flexes with the bones and tendons of your foot to maintain dexterity. In keeping with the original design, the Torin 3 is a neutral running shoe with a FootShape Toe Box that allows your toes to spread out naturally for enhanced stability and speed, while the fully-cushioned Zero Drop platform naturally aligns your body posture and promotes low-impact technique. The dual-layer EVA InnerFlex midsole utilizes grid-like grooves to maximize flexibility and reduce weight as the A-Bound layer provides superior cushioning for your feet.
Best Price $124.95 from Backcountry.com
Related Products Altra Torin 3 Running Shoe - Men's
Ventilation is key when running or training in high temperatures, which is why the folks at Altra equipped the new Men's Torin 3 Running Shoe to assure better breathability as you rack up the miles on... Altra Torin 2.5 Running Shoe - Women's
Flexible and lightweight, the Altra Women's Torin 2. 5 Running Shoe is designed to keep your feet cushioned and your technique flawless. The newly updated 2. 5 features a redesigned upper that keeps in... Altra Torin IQ Smart Running Shoe - Men's
As wonderful as a personal trainer would be, financing such a luxury does pose its own set of complications. However, with the Altra Men's Torin IQ Smart Running Shoe, you're able to get the personalized...
---