Price search results for Alpinestars Stella Pathfinder Shorts – Women's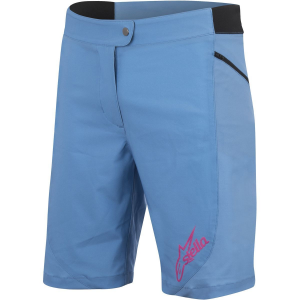 When you need a pair of shorts that can move seamlessly between enduro marathons, lift-served DH laps, and hammerfest trail rides, you'll be hard pressed to do better than Alpinestars' Stella Pathfinder Women's Shorts. They reach down to the knee, so you won't feel exposed when you're blowing up high-speed berms or bucking your way down rugged gardens, but the legs taper slightly so they won't interfere when you're mashing out high-speed singletrack. The multi-panel construction is designed to provide unhindered mobility, but Alpinestars also integrates stretch mesh panels just to make sure you can move freely. The brand also hooked up a breathable, moisture-wicking, chamois-equipped liner, because you always want something soft between you and the saddle, even if you spend most of your ride time standing up or hanging off the back. Two adjustable tabs at the waist make sure you don't have to deal with unwanted low-riders, and two zippered hand pockets hold onto multitools, snacks, phones, and maybe even a trail map or two.
Related Products Alpinestars Pathfinder Shorts w/ Inner Shorts - Men's
Nothing sours a day ripping enduro lines in your local region's trails faster than chaffing in your even more local nether regions. Alpinestars built the Pathfinder Shorts w/ Inner Shorts to be a multi-layered... ---