Price search results for Alpinestars Pathfinder Shorts w/ Inner Shorts – Men's Nothing sours a day ripping enduro lines in your local region's trails faster than chaffing in your even more local nether regions. Alpinestars built the Pathfinder Shorts w/ Inner Shorts to be a multi-layered shield against discomfort, both inside and out. The outside has abrasion resistance to protect you from the occasional crash or grasping branches; the inside has a seamless seat and chamois-equipped lining to help reduce fabric-on-skin friction and saddle-on-cyclist bruising.
Related Products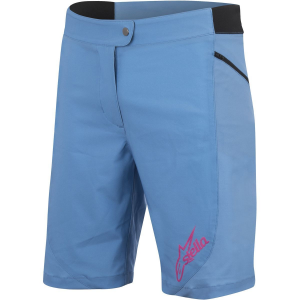 Alpinestars Stella Pathfinder Shorts - Women's
When you need a pair of shorts that can move seamlessly between enduro marathons, lift-served DH laps, and hammerfest trail rides, you'll be hard pressed to do better than Alpinestars' Stella Pathfinder... Alpinestars Drop 2 Shorts - Men's
Some destinations require a little long-distance and uphill pedaling efforts along the way. In those cases, the Drop 2 Men's Shorts ensure a fresher arrival and keep you cool, saving energy for the rip...
---