Price search results for Alpinestars Moab Elbow Guards Why do elbows seem to seek out rocks and trees to bash themselves into' It's like they have a death wish or something. The Alpinestar Moab Elbow Guard protects those pain-prone protrusions with impact-absorbing thermoplastic plates and vented foam.
Related Products Alpinestars A-Line 2 Elbow Guards
Crashes can give you serious stingers, nasty scrapes, or worse, so wearing Alpinestars' A-Line 2 Elbow Guards when you're getting rowdy is never a bad idea. Anatomically constructed bio-foam and hard polymer... Alpinestars Alps 2 Elbow Guards
It can be tough to find the perfect balance of protection and flexibility, but Alpinestars designed the Alps 2 Elbow Guards to give you more than enough of both. The Alps 2s use abrasion-resistant PE foam...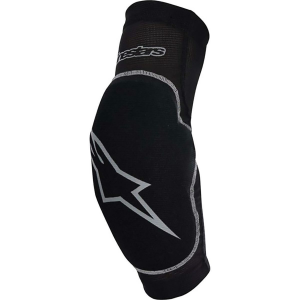 Alpinestars Paragon Elbow Guards
Even if you don't want to wear bulky hard pads, it's nice to have a skin-saving layer between your elbows and the ground. Enter the Alpinestars Paragon Elbow Guards, a lightweight, breathable, and flexible...
---