Price search results for Alpinestars Manual Shorts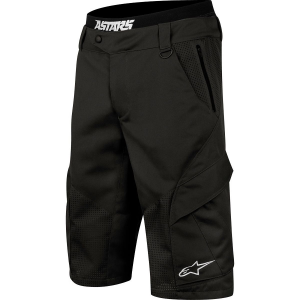 Even downhillers have to pedal from time to time, so Alpinestars designed the gravity-loving Manual Short with lightweight fabric and plenty of venting to keep you cool when you have to hit some hills or do some hike-a-biking. A blend of polyester, spandex, and mesh provides toughness, stretch, and air movement right where you need it, and additional thigh vents help you stay cool even if you're padded up under the hot sun. The hook-and-loop waist adjustment system lets you dial in a fit that won't slip or squeeze, and the relaxed fit easily accommodates pads and boosts your steeze factor. Alpinestars included a removable mesh liner complete with a moisture-wicking and flexible chamois, to keep your undercarriage safe and comfortable when you're ripping around fast berms and through techy sections of trail. There are also plenty of pockets, including a zippered media pocket, to keep your snacks, tools, and tunes close by and easily accessible.
Related Products Alpinestars Pathfinder Shorts w/ Inner Shorts - Men's
Nothing sours a day ripping enduro lines in your local region's trails faster than chaffing in your even more local nether regions. Alpinestars built the Pathfinder Shorts w/ Inner Shorts to be a multi-layered... Alpinestars Drop 2 Shorts - Men's
Some destinations require a little long-distance and uphill pedaling efforts along the way. In those cases, the Drop 2 Men's Shorts ensure a fresher arrival and keep you cool, saving energy for the rip... Alpinestars Evolution Shorts - Men's
We aren't born with mountain-bike padding, so the Alpinestars Evolution Men's Shorts provide cushioning and support where you need it most. A stretch mesh body makes for a compressive, comfortable fit...
---