Price search results for Alpinestars Bionic Tech Mountain Bike Jacket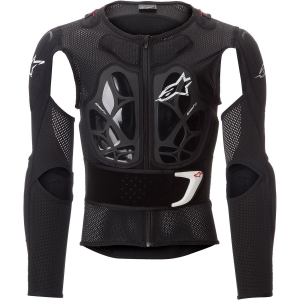 Softening the sting of consequential falls when you're crushing over downhill rock gardens, flying off park hits, and dropping into what others deem "stunningly stupid," the Alpinestars Bionic Tech Mountain Bike Jacket combines critical protection of vitals with a lightweight, well-ventilated design. Grid-like fabric is burly enough to withstand serious thrashings on a regular basis, yet it remains comfortable by actively breathing as you work up a sweat. The sleeves are removable for a cooler feel, meaning you'll actually want to wear this protection when toasty temperatures threaten to roast your upper body. Seeing as how your back serves as a critical zone of interconnected nerves and muscle groups, the Bionic Tech Jacket features a back protector that's essential when you need it and removable when you don't. Removable EVA pads take the brunt of impact force along the shoulders, chest, and kidneys, all without sacrificing movement when mobility is key to stomping your line. To ensure a solid fit, this protective jacket uses elastic cords along the sleeves, pull-tabs over the shoulders, and a V-strap kidney belt across your mid-section.
Related Products Alpinestars MTB Bionic Men's Shorts
I'll get it soon is a pretty common refrain when talking about protective gear, but how many times have you put it off only to get smashed on your next ride' Even once is one time too many, so grab the... Alpinestars All Mountain 2 WP Jacket - Men's
The same raindrops tapping on the Alpinestars Men's All Mountain 2 WP Jacket will inevitably turn into the same mud puddle your mountain bike will splash through the next day, and Alpinestars designed... Alpinestars All Mountain Jacket - Men's
Alpinestars' All Mountain Men's Jacket has your back when the weather takes a turn. It might be lightweight, but the jacket packs a heavy punch when it comes to keeping you protected out there. The technical...
---