Price search results for Alpinestars BNS Pro Neck Support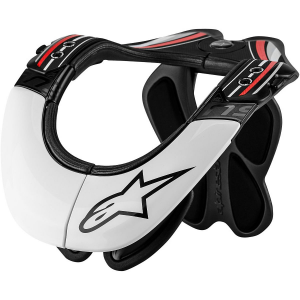 Constructed from fiberglass resin with interchangeable EVA foam pads, Alpinestars' BNS Pro Neck Support minimizes risk of serious injury. During a crash, the BNS Pro's structural integrity, from the lightweight resin, protects against heavy impacts. At the rear of the BNS Pro, a rear stabilizer promotes PFR (Progressive Force Relief) to dissipate energy loads across the back and shoulders -- and away from the vertebrae. The frame design also promotes improved helmet contact through a wide support edge, which accounts for varying helmet shapes and sizes to reduce hyper-flexion. The fiberglass frame isn't just light and tough, Alpinestar also designed it with superb ergonomics. This not only improves comfort when riding, but it includes an innovative quick-release locking system. The result is speedy and efficient fitting/removal for simple gearing up or post-ride gearing down. EVA foam padding distributes impact forces to reduce injury and to cushion. Alpinestars' BNS Pro Neck Support comes in the color Black/white/red and in the sizes X-Small/small/medium and Large/x-large.
Related Products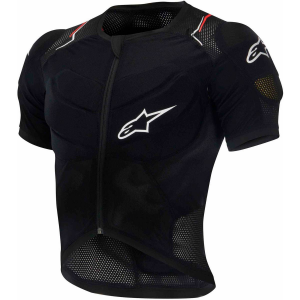 Maybe one day humans will evolve body armor, but until then it's a good call to wear the Alpinestars Evolution Jacket when you're pushing it to the limit. Crashes come in all shapes, sizes, and intensities,... You wear a helmet every time you ride. It only makes sense that you would protect Alpinestars MTB Bionic Jacket protects your chest, back, shoulders, and elbows, and it does it all while letting cooling... Alpinestars A-Line 2 Elbow Guards
Crashes can give you serious stingers, nasty scrapes, or worse, so wearing Alpinestars' A-Line 2 Elbow Guards when you're getting rowdy is never a bad idea. Anatomically constructed bio-foam and hard polymer...
---