Price search results for AlpineAire Toffee Break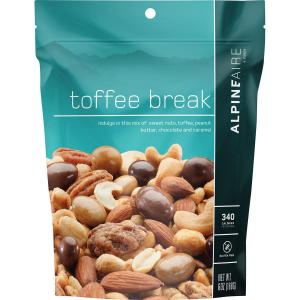 When you finally make it to the summit, slip your pack off your shoulders and enjoy a Toffee Break from AlpineAire as you take in the view. A mix of butter toffee peanuts, pecans, almonds, milk chocolate caramels, peanut butter peanuts, and cashews, this snack is not only delicious, but it also gives you the energy you need for your descent.
Related Products Whether you're climbing the 365 steps to Nepal's Monkey Temple or enjoying a trek along Kauai's tropical coast, you'll go bananas over AlpineAire's Monkey Mix. Combining dried and dark chocolate covered... With all the ingredients you've come to love in a breakfast scramble, the AlpineAire Bandito Scramble is the best reason to get out of the tent in the morning. Easily prepared inside its own resealable... AlpineAire went down south and came back with Chicken Gumbo so you could enjoy southern cuisine while backpacking. This packet is quick to cook, easy to clean, and tastes particularly wonderful in cold...
---