Price search results for AlpineAire Thai Style Chicken with Noodles There's no better way to end a long day backpacking than with a hot, full-flavored meal. The AlpineAire Thai Style Chicken with Noodles meal is mildly spiced with a Thai-style sauce along with peanuts, tree nuts, and vegetables. Just boil two cups of water, add it to the pouch, and you're ready for chow time. Each package contains about two servings.
Related Products AlpineAire went down south and came back with Chicken Gumbo so you could enjoy southern cuisine while backpacking. This packet is quick to cook, easy to clean, and tastes particularly wonderful in cold... AlpineAire Chicken Burrito Bowl
While everyone else in camp is choking down sodium-rich noodles, treat yourself to the Alpine Aire Chicken Burrito Bowl; although, you'll probably have to share once you pop open this tasty blend of cilantro...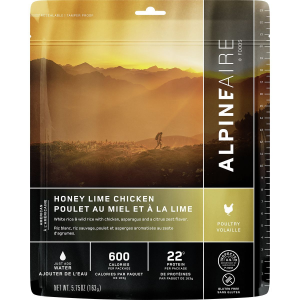 ---