Price search results for AlpineAire Strawberry Bliss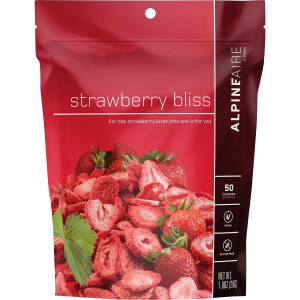 It's been one of those days on the trail--the kind where nothing seems to be going right, from a spot of rain in the morning to temperamental gear that waylaid you for over an hour. When it seems that the universe is trying to break you, pull out the AlpineAire Strawberry Bliss and bring the joy back into your day. Conveniently packaged for energy on the go, these freeze-dried strawberry slices are light in your pack and make an easy snack to brighten your day. Simply tear off the top and devour.
Related Products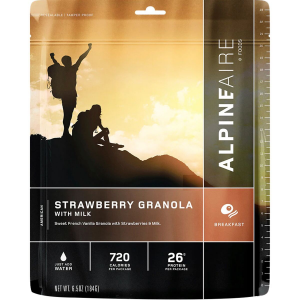 AlpineAire Strawberry Granola with Milk
You could spend your morning searching for wild strawberries, making granola from tree bark, and trying to harvest marmot milk, or you could just add some boiling water to the Alpine Aire Strawberry Granola... Whether you're climbing the 365 steps to Nepal's Monkey Temple or enjoying a trek along Kauai's tropical coast, you'll go bananas over AlpineAire's Monkey Mix. Combining dried and dark chocolate covered... With all the ingredients you've come to love in a breakfast scramble, the AlpineAire Bandito Scramble is the best reason to get out of the tent in the morning. Easily prepared inside its own resealable...
---