Price search results for AlpineAire Spicy Pork Sausage Pasta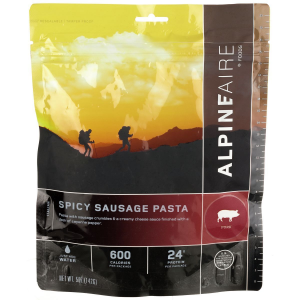 When your stomach screams louder than your aching feet, it's time to pull out the AlpineAire Spicy Pork Sausage Pasta. This great-tasting meal is nutritious with high-quality ingredients, so it's almost as good as Grandma's famous pasta recipe. And since it's packed with 12 grams of protein, you'll be refueled and ready to tackle your next adventure. This pasta is so easy to prepare that you simply add hot water to the fill line, which means there's no need for a measuring cup.
Related Products AlpineAire Three Cheese Chicken Pasta
Replacing the calories your burned during a long day in the backcountry is essential, and the Three Cheese Chicken Pasta from Alpine Aire is one seriously tasty way to do it.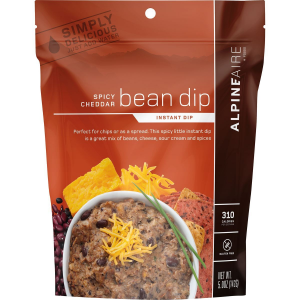 AlpineAire Spicy Cheddar Bean Dip
Your blissfully exhausted after conquering that route that's given you problems all weekend. So as you rest under the shade of a juniper, reward your perseverance with the AlpineAire Spicy Cheddar Bean... AlpineAire Spicy Southwest Hummus
After a challenging day through narrow slot canyons and over rocky ridges, reward yourself with some AlpineAire Spicy Southwest Hummus. A mix of chickpeas, southwest seasoning, and jalapeno spice awakens...
---