Price search results for AlpineAire Raspberry Granola with Milk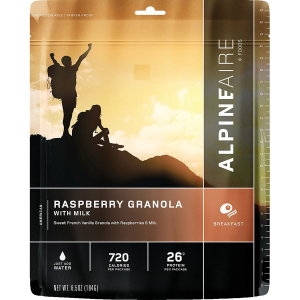 Let AlpineAire's Raspberry Granola with Milk warm your bones after a chilly night in the tent. This sweet breakfast only takes one cup of boiling water and five minutes to make, and you can prepare and eat it straight out of the pouch for a plate-free trip.
Related Products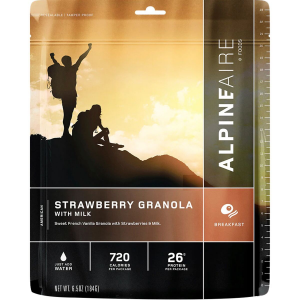 AlpineAire Strawberry Granola with Milk
You could spend your morning searching for wild strawberries, making granola from tree bark, and trying to harvest marmot milk, or you could just add some boiling water to the Alpine Aire Strawberry Granola... Whether you're climbing the 365 steps to Nepal's Monkey Temple or enjoying a trek along Kauai's tropical coast, you'll go bananas over AlpineAire's Monkey Mix. Combining dried and dark chocolate covered... With all the ingredients you've come to love in a breakfast scramble, the AlpineAire Bandito Scramble is the best reason to get out of the tent in the morning. Easily prepared inside its own resealable...
---