Price search results for AlpineAire Leonardo Da Fettuccine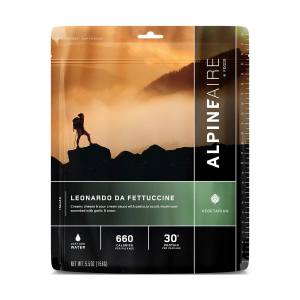 Da Vinci invented just about everything, but backpacking meals were a little bit out of his range, so Alpine Aire whipped up its Leonardo Da Fettuccine as delicious tribute.
Best Price $6.03 from Backcountry.com
Related Products Whether you're climbing the 365 steps to Nepal's Monkey Temple or enjoying a trek along Kauai's tropical coast, you'll go bananas over AlpineAire's Monkey Mix. Combining dried and dark chocolate covered... With all the ingredients you've come to love in a breakfast scramble, the AlpineAire Bandito Scramble is the best reason to get out of the tent in the morning. Easily prepared inside its own resealable... AlpineAire went down south and came back with Chicken Gumbo so you could enjoy southern cuisine while backpacking. This packet is quick to cook, easy to clean, and tastes particularly wonderful in cold...
---