Price search results for AlpineAire Forever Young Macaroni and Cheese If you own a cookstove or even just a pot and some matches, the Forever Young Macaroni and Cheese is the way to go. Lightweight, compact, and super easy to prepare, this meal offers two servings at a weight of only 7 ounces.. The meals are packaged in resealable foil pouches. To prepare a meal, just add a couple cups of hot water right to the pouch. A few minutes later you're ready to chow.
Related Products AlpineAire Three Cheese Lasagna
AlpineAire's Three Cheese Lasagna brings Italian cuisine to all your backpacking adventures. It's quick to make, easy to clean, and packed with vegetarian-approved ingredients.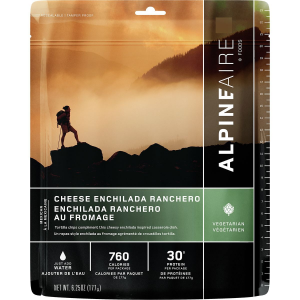 AlpineAire Three Cheese Chicken Pasta
Replacing the calories your burned during a long day in the backcountry is essential, and the Three Cheese Chicken Pasta from Alpine Aire is one seriously tasty way to do it.
---