Price search results for AlpineAire Beef Burrito Bowl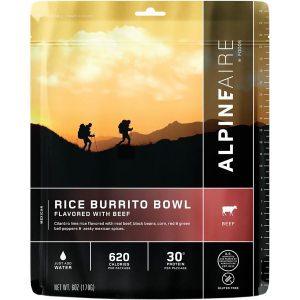 The impossible just became possible with the Alpine Aire Beef Burrito Bowl. Throw a few tortillas, your favorite hot sauce, and this beefy blend of cilantro lime rice, black beans, beef, corn, bell peppers, and zesty Mexican spices in your pack to enjoy a hearty meal after a long day's hike.
Related Products AlpineAire Chicken Burrito Bowl
While everyone else in camp is choking down sodium-rich noodles, treat yourself to the Alpine Aire Chicken Burrito Bowl; although, you'll probably have to share once you pop open this tasty blend of cilantro...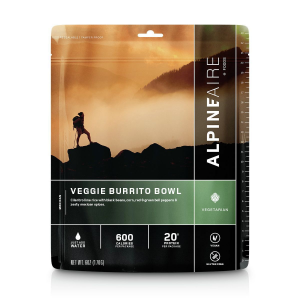 AlpineAire Vegetarian Burrito Bowl
The search for a delicious meat-free backpacking meal is over--the Alpine Aire Vegetarian Burrito Bowl satisfies your veggie-craving belly with a savory blend of cilantro lime rice, black beans, corn,... AlpineAire Pepper Beef with Rice
Rely on AlpineAire's Pepper Beef with Rice to re-energize your weakened body after the long trek to your backpacking destination. It's easy to make, easy to clean, and both tasty and nutritious.
---