Price search results for AlpineAire Apple Almond Crisp AlpineAire's Apple Almond Crisp makes a great breakfast for those who enjoy the sweeter side of things. Just boil water and add it to the resealable pouch, and you're good to go. Each package contains two servings.
Related Products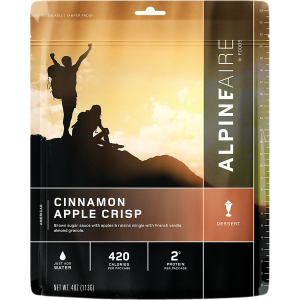 AlpineAire Cinnamon Apple Crisp
AlpineAire's Cinnamon Apple Crisp is your just dessert after a full day backpacking up steep mountains. Just add a cup of boiling water into the pouch, let it settle for ten minutes, and then eat it out... Whether you're climbing the 365 steps to Nepal's Monkey Temple or enjoying a trek along Kauai's tropical coast, you'll go bananas over AlpineAire's Monkey Mix. Combining dried and dark chocolate covered... With all the ingredients you've come to love in a breakfast scramble, the AlpineAire Bandito Scramble is the best reason to get out of the tent in the morning. Easily prepared inside its own resealable...
---