Alpina Velocity Classic NIS Ski
Hit the classic track hard with your Alpina Velocity Classic NIS Skis underfoot and cruise the track with speed and efficiency. Whether you're pushing your limits on a training day or just out enjoying the crisp winter air, you'll enjoy a smooth glide and speedy splits thanks to the race base and lightweight basalt core.
Best Price: $199.95 from Backcountry.com
Related Products Whether you're looking to get into skate skiing or looking to improve your technique, the Alpina Velocity Skate NIS Ski is the ski for you. One step above Alpina's Action Skate Ski, the Velocity shares... The Alpina T 30 Classic Boot features a fairly soft flex for all-day off-trail comfort, but it's not a pushover. The plastic cuff, heel counter and power strap provide enough support for those pristine...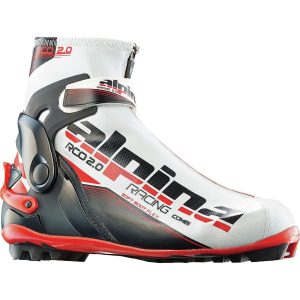 Blast off at near-supersonic speeds in the Alpina R Combi Classic Boot. These race-oriented boots are light and fast with a soft flex, CMB cuff, plastic heel counter, and gaiter. The Thinsulate insulation,...
---