Price search results for Alchemy Hyas Ultegra Complete Road Bike -2018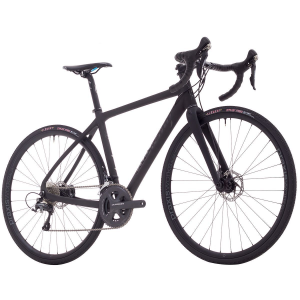 Though Hyas (who was killed by his own prey while hunting) isn't a terribly inspiring namesake for a gravel bike, the fact that his sisters, the Hyades, mourned themselves to death and were elevated to a constellation whose ascension corresponds with the rainy season does make sense. Alchemy's Hyas Ultegra Complete Road Bike is equipped with huge tire clearance, a stable footprint, and disc brakes, making it an ideal choice for the all-terrain, all-season adventure cyclist who doesn't take bad weather and shifty surfaces as reasons to go slow. The Hyas proves that all-terrain doesn't mean all-time heavy or all over the damn place in terms of handling. It lacks the Aithon's aerodynamic head tube, but it includes similar reinforcement throughout the drive spine and the same rear triangle tweaks. These are most noticeable in the seatstays, which are bowed to produce engineered flex in order to soak up bumps and chatter when the going gets bumpy and chatter-y. Those comfort-first seatstays are paired with oversized chainstays linking the big bottom bracket to built-up Alchemy dropouts, helping the ensure that gravel-road comfort doesn't come at the expense of pedaling efficiency.
Best Price $5439.00 from Backcountry.com
| Retailer | Product Name | Price | |
| --- | --- | --- | --- |
| Backcountry.com | Alchemy Hyas Ultegra Complete Road Bike -2018 | $5439.00 | Buy Now |
Related Products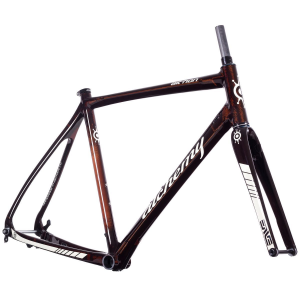 Alchemy Aithon Road Frameset -2018
In the late '90s, we were racing on flexy, featherweight alloy frames that barely cleared 23mm tires. Some 20 years later, versatility, comfort, and stiffness have loosened weight's stranglehold on what... Alchemy Atlas Road Frameset - 2018
Usually when we think of artisanal frame craftsmanship in the cycling industry, we think of steel. We think of thin, round, hand-welded tubes. We think of a jig labored over by a reclusive Italian legend... Alchemy Eros Di2 Road Frameset -2018
It doesn't take a seasoned veteran to recognize the ride quality of titanium. After all, the material is one of the old dogs of boutique frame construction because its strength-to-weight ratio surpasses...
---