Alchemy Eros Di2 Road Frameset -2018 It doesn't take a seasoned veteran to recognize the ride quality of titanium. After all, the material is one of the old dogs of boutique frame construction because its strength-to-weight ratio surpasses every other ferrous frame material (even exotics like scandium) but doesn't come at the expense of a harsh ride. That's more or less what the industry collectively refers to as "ride quality," and it's long defined what makes a desirable frame. In the Alchemy Eros Di2 Road Frameset, that ages-old ride quality is updated with Shimano Di2 compatibility, bringing the frame material of our dreams into contact with the drivetrains of the future. If titanium is the old dog on the block, the Di2 Eros proves that it's more than capable of learning a new trick. Titanium recalls the halcyon days of cycling's past (while reminding us why discerning perfectionists still insist on it), but the ENVE carbon fork and tapered head tube are decidedly modern touches. Stiffening the front end is the name of the game here, and it helps preserve a gap while pushing through on fast, sweeping descents and while hammering out of the saddle on a climb in order to get that gap. The Eros is Alchemy's first bike, and even though it has its own carbon wonder bikes, Alchemy stands by the Ti Eros as "a sleek work of art" that will "outperform any bike made from any material." The art part is obvious (Those too-clean welds!), but the Eros is surprisingly sharp under hard efforts. The frame's other dimensions also speak to racing rather than noodling. Its reach and drop are every bit as aggressive as a typical World Tour GC machine, and Alchemy puts that race-minded mien to good use as a showcase for titanium's eager, springy responsiveness. The combination of geometry and material recommends the Eros as a club racer that isn't (too) afraid of the prospect of clipping a pedal in the final corner. That's not to say the Eros isn't only a hard-as-nails race slayer. It's got some elegant design fea...
Best Price: $3499.00 from Backcountry.com
Related Products Alchemy Eros Mechanical Road Frameset -2018
Carbon fiber is the new de facto material for framesets. We get it. We're not fighting it. It's light, stiff, etc., etc.--you know the story. But every once in a while, we throw a leg over a ferrous top...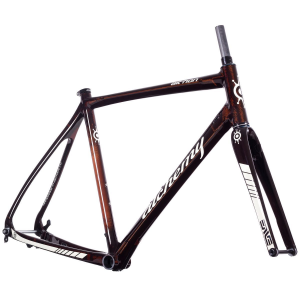 Alchemy Aithon Road Frameset -2018
In the late '90s, we were racing on flexy, featherweight alloy frames that barely cleared 23mm tires. Some 20 years later, versatility, comfort, and stiffness have loosened weight's stranglehold on what... Alchemy Atlas Road Frameset - 2018
Usually when we think of artisanal frame craftsmanship in the cycling industry, we think of steel. We think of thin, round, hand-welded tubes. We think of a jig labored over by a reclusive Italian legend...
---