Price search results for Alchemy Atlas Road Frameset – 2018 Usually when we think of artisanal frame craftsmanship in the cycling industry, we think of steel. We think of thin, round, hand-welded tubes. We think of a jig labored over by a reclusive Italian legend or a tattooed IPA enthusiast from the Pacific Northwest. The Alchemy Atlas Road Frameset--which we'd definitely call "artisanal"--doesn't meet any of those expectations. In not meeting them, the Atlas also proves that those expectations are admittedly outdated or inaccurate. After all, any good frameset is ultimately about the details: material, geometry, construction, and the finishing touches that may appear subtle to the untrained eye but ultimately define the experience of riding a bike that transcends the border between sport and art. Whether you opt for a painted model or a clear coat to show off the artful layup, the Atlas is gorgeous. But let's leave that aside for now and focus on what really matters: the ride quality. As much as we love the classic lugged frames ridden by the likes of Coppi and Merckx, there's a good damned reason why they hang unused on the walls of shops peddling mostly carbon bikes. Carbon has simply become the material of choice for bikes from GC contenders to gran fondo endurance riders, and Alchemy's size-specific layup schedules demonstrate why. Each frame size receives its own unique layup, which means that cyclists on a 60cm frame don't have to suffer with a wagging bottom bracket because the tubes are simply elongated versions of those on a 52. Instead, the carbon is applied in order to maintain the same ride quality regardless of size. The Alchemy won't be earning accolades as a pure stiffness-to-weight bike, but it's also a hell of a lot more fun to ride than a too-harsh race machine designed for emaciated Euro pros. We're not saying the bike is heavy; we're saying it's less interested in posing on a scale and far more interested in making sure you enjoy a comfortable, efficient ride whether you're racing or cruising or doin...
Related Products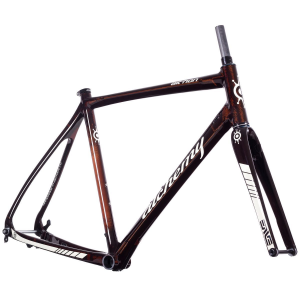 Alchemy Aithon Road Frameset -2018
In the late '90s, we were racing on flexy, featherweight alloy frames that barely cleared 23mm tires. Some 20 years later, versatility, comfort, and stiffness have loosened weight's stranglehold on what... Alchemy Eros Di2 Road Frameset -2018
It doesn't take a seasoned veteran to recognize the ride quality of titanium. After all, the material is one of the old dogs of boutique frame construction because its strength-to-weight ratio surpasses... Alchemy Eros Mechanical Road Frameset -2018
Carbon fiber is the new de facto material for framesets. We get it. We're not fighting it. It's light, stiff, etc., etc.--you know the story. But every once in a while, we throw a leg over a ferrous top...
---