Price search results for Alchemy Aithon Road Frameset -2018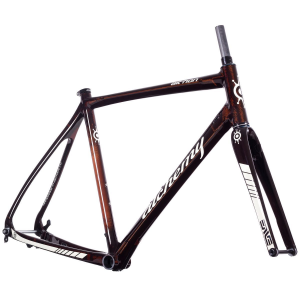 In the late '90s, we were racing on flexy, featherweight alloy frames that barely cleared 23mm tires. Some 20 years later, versatility, comfort, and stiffness have loosened weight's stranglehold on what makes a good bike--largely because those bend-in-the-wind aluminum tubes and tiny tires (at 120 psi, of course) get murdered by the kind of all-terrain adventure riding and racing that are reshaping the American cycling landscape. With carbon stiffness, race-minded tube shapes, and huge tire clearance, Alchemy's Aithon Road Frameset establishes itself as the brand's most versatile frame, addressing the needs of today's take-all-comers cyclist. It transitions from tarmac to gravel to dirt roads without sacrificing any of the efficiency that makes it a suitable road machine. We should stress here that by "suitable," we mean competition-ready. Alchemy classifies the Aithon as a gravel race bike. The italics emphasis is ours in copy, but the inclusion of design elements borrowed from Alchemy's road framesets stresses the fact in practice. This includes the head tube from the aerodynamic Arion frame and the down tube from the Helios, Alchemy's all-purpose road race machine. That means it's stiff and aerodynamic enough for sprints and long-distance solo moves, but it also enjoys a bit of pneumatic suspension in the form of 38mm tire clearance. Unlike the Arion and the Helios (and our old flimsy alloy bikes), the Aithon's race doesn't end when the asphalt does. The bike's multi-surface pedigree is further reinforced by the rear triangle, which features a special carbon layup designed to take the pain out of chattery corduroy and poorly graded gravel. This includes bowed seatstays, which operate like a leaf spring in order to provide a touch of engineered flex without compromising the drive efficiency of the oversized chainstays and built-up Alchemy dropouts. Efficiency and comfort are the priority here, fitting since the bike shares a name with the horses ridden to batt...
Related Products Alchemy Atlas Road Frameset - 2018
Usually when we think of artisanal frame craftsmanship in the cycling industry, we think of steel. We think of thin, round, hand-welded tubes. We think of a jig labored over by a reclusive Italian legend... Alchemy Eros Di2 Road Frameset -2018
It doesn't take a seasoned veteran to recognize the ride quality of titanium. After all, the material is one of the old dogs of boutique frame construction because its strength-to-weight ratio surpasses... Alchemy Eros Mechanical Road Frameset -2018
Carbon fiber is the new de facto material for framesets. We get it. We're not fighting it. It's light, stiff, etc., etc.--you know the story. But every once in a while, we throw a leg over a ferrous top...
---