Price search results for Aire Lynx I Inflatable Kayak One and done is your motto--that's why you've filled your river quiver with the singular, incomparable Aire Lynx I Inflatable Kayak. This fine-lookin' kitty is anything but fickle as it's deliberately designed for a wealth of water conditions. Engineered for stability, the Lynx moves with feline finesse through tight and tricky class III sections, as well as purring across tranquil lakes. Whether you're a novice paddler or seasoned river rat, the Lynx lets you enjoy being on the water.The basics of this boat are two PVC tubes filled with three AIREcell air chambers on each side. PVC weathers the wear and tear of high volume rapids or low-flow rock runs. Air inside keeps the boat (and you) floating merrily along. The combination of robust fabric and rigid rails makes this craft a pleasure to steer, as it responds to every stroke of your paddle. The Leafield B7 valves only let air flow one way, meaning flipping in the middle of a raging river still won't cause these super-sealers to leak.The included chair supports your back so you don't sag after a full day of powering through whitewater. A large rear storage pocket and water bottle holder put essentials well within arm's reach while leaving your feet free of clutter. The seat unsnaps so you have an easy place to rest your water-weary bones on shore. Cargo loops abound to give your gear a safe ride, and the self-bailing floor sheds water quicker than you can "get rid of" beer weight.
Related Products Aire has a long history of manufacturing top-shelf river rafts and whitewater rafting accessories, and in response to a need for an easily transportable river kayak solution, it created the Force Inflatable...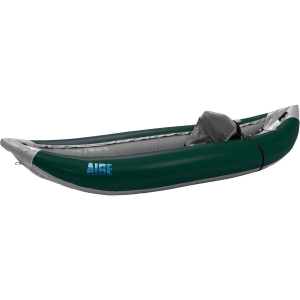 Aire Outfitter I Inflatable Kayak
Whether you're rafting down the Grand Canyon or California's Smith River, the Aire Outfitter I Inflatable Kayak is the one-person machine for you. Large tube diameters and a low seating position give this... Aire ChargAIRE Inflatable Stand-Up Paddleboard
With a name like the Aire ChargAIRE Inflatable Stand-Up Paddleboard, it's no surprise that this inflatable board features a muscle-car inspired construction that's built for cruising through whitewater...
---