Price search results for Airdog Auto-Follow Drone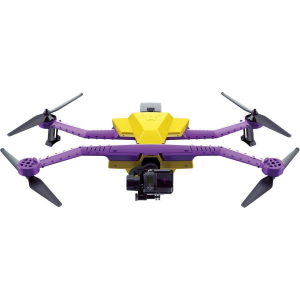 Being the world's first auto-follow drone engineered for action-sports use, the AirDog Auto-Follow Drone captures stunning footage with your GoPro camera (not included), filming your every move while you surf, kiteboard, snowboard, ski, skateboard, or wakeboard. It's also a great choice for filming high-speed mountain bike rides, thanks to its 40mph top speed and 11,500-foot operational altitude (above sea level). In fact, it effortlessly films your every move from up to 820-feet away with the included AirLeash secured to your wrist, and it includes a Ground Collision Avoidance system on board to enable the drone to land safely before the battery is depleted. This quadcopter drone features a gyro-stabilized gimbal optimized for use with GoPro action cameras, stabilizing your shot without the shaky footage often encountered with helmet and chest POV attachment methods. AirDog has five follow methods: fixed follow, follow path, hover and aim, follow line, and adaptive follow, with personalized modes best suited for particular land and water-based action sports. The addition of Sensor Fusion Technology allows the drone to predict motion and account for unique motion patterns in every sport by applying data from inertial measurement units, GPS and compass information, and smart algorithms applied over sensor data to keep the camera focused on the action. The Bluetooth-enabled AirLeash is a waterproof-wearable wrist strap that controls the operation and direction of the AirDog's flight. Wherever you roam, the AirDog will follow, so long as you have the AirLeash fastened to your wrist. It's responsible for selecting various flight modes, adjusting flight height and follow distance, as well as controlling landing options for safe flight operation. LiDAR technology allows the Airdog to detect quick changes in elevation, so the drone flies over big kickers, steep hills, and snow-covered mountains. The AirDog is compatible with both Apple and Android smartphones, courte...
Best Price $1599.00 from Backcountry.com
Related Products Designed as back-up propellers for your AirDog auto-follow drone (sold separately), the AirDog Propellers include four self-tightening, high-performance propellers for getting back in the air after experiencing...
---